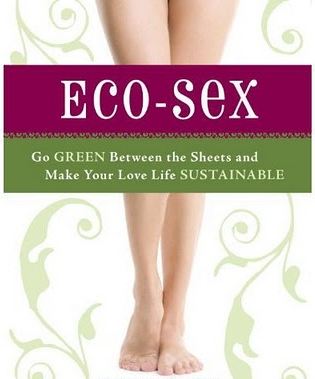 Originally published on December 10, 2010 at David Horowitz's NewsReal
Like any socially conscious steward of Mother Earth, I have minimum standards when it comes to sex. I want my hookers sustainable, my porn carbon neutral, and my sex toys handcrafted from renewable resources.
I don't care if you're heterosexual or homosexual as long as you're eco-sexual.
Tell me that's not hawt! Admit it, you're totally turned on right now.
Hello? Anyone?
Sure, you might think the sex industry is inherently sustainable. But you probably don't realize how many reasons there are to feel guilty about what you're doing. No, I'm not talking about the porn 'n' hookers, silly! It's the environmental and social impact of sex work that should have your certified organic panties in a bunch. Not to worry, though. Givers like Green Futures deputy editor Anna Simpson are working feverishly to ensure your eco-sexually correct future looks a lot like this (hat tip: Pirate's Cove):
Feel like watching the latest Fair Trade-certified porn film? The actors all enjoy decent pay, health insurance, and pensions. The carbon impact of the set lighting and travel is offset through investment in clean, efficient cookstoves sold at affordable prices to women in rural Africa.

Perhaps you'd prefer a spot of ethical lap-dancing? You can be sure the performers are all willing and well-paid: It's certified by Care and Consent, the highly reputable international certification body for ethical sex. You tip generously, knowing that 50 percent of the profits are promised to the local women's community center.

Or, maybe best of all, you opt for an evening in with your sweetheart. You've got everything you need: condoms made from rubber tapped sustainably in Brazil, hand-carved FSC-certified sex toys, and delicious Fair Trade dark chocolate body paint.

Tempted? You're not alone.
Yes, the Left has discovered yet another segment of society to, er, penetrate: the sex industry.
Does your brothel use renewable energy to power the vibrating beds? Do the actors in that porn video donate to sad and hopeless progressive causes like Kathy Griffin's comedy tours? And what about your condoms? Are they made from sustainably harvested fair trade latex processed by one-legged widows with gold-plated pensions in Sri Lanka? No?! Shame on you!
Okay, I think I got the whole eco-sexual activist thing out of my system now. I don't have the stamina to keep it up. (Heh.)
As William Teach observed, "Sheesh, it'd be just like liberals to take all the fun out of sex, and replace it with Social and Environmental Justice." Indeed.
But as absurd and mockable as this is, we're not just dealing with killjoys and spoilsports. And we're certainly not looking at genuine concern for the ethical treatment of sex industry employees, as Anna Simpson would have you believe. "Eco-sexuality" is yet another feelgood lefty scheme designed to give hipsters something to boast about as they sip humanely processed eco-tinis at the next vegan dinner party.
Anna Simpson and her ilk feign concern for the exploited workers of the sex industry, but they continue to order Asian escorts (read: human trafficking victims) from the seediest pages of The Village Voice. And Simpson is happy to continue enlarging her own carbon footprint by playing "Two Girls, One Cup" on an endless loop (hypothetically, of course) because hey, she wrote a whole article about how the actresses should be driving Priuses to and from the set.
Gosh, women are awfully lucky to have the Left on their side.
—–
Follow me on Twitter.
Originally published on November 7, 2010 at David Horowitz's NewsReal
by Jenn Q. Public & Lori Ziganto
———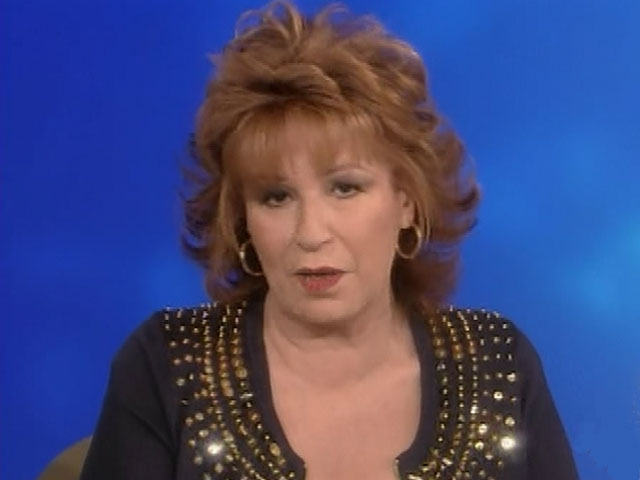 It came as quite a shock to the leader of one women's organization when Joy Behar, ostensibly a comedian, called Sharron Angle a "bitch" on the "The View" last month. Sonja Eddings Brown, president of The Kitchen Cabinet, told The Daily Caller, "We thought Joy Behar was a classier act than this."
To which we responded, "Ha ha ha ha ha!" followed by, "HA HA HA HA HA!" When our laughter-induced wheezing subsided — and we're not gonna lie, there may have been some giggle-snorting — the idea for this post was born.
Before the obligatory lefty panty bunching begins in response to this post's title, you should know that it's not the first time we've been called mean girls and name-callers, and it won't be the last. But we have refrained from calling Ms. Behar the b-word, and that gives us exclusive claim to the high road here.
Also, we're bloggers, not holier-than-thou television "personalities" who get off on squawking about how we're better than you because we vote Democrat. And we may have had a couple of beers while writing this post. Our readers are important to us and we're willing to go the extra mile. For you.
So, with all of the fanfare a class act like Joy Behar deserves, we bring you her 9 most inane statements, the ones that should have even the Left shuddering in embarrassment. (Yeah, we're not holding our breath either.)Â  Read more
Originally published on November 1, 2010 at David Horowitz's NewsReal
———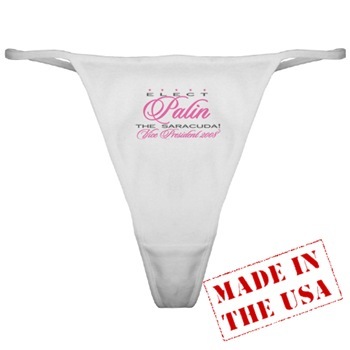 If you rely on the Reich-wing, Tea-tard propaganda machine for your information, you probably missed the news about the sexually suggestive gift Sarah Palin received from Maricopa County Sheriff Joe Arpaio last week: pink panties!
But no worries, the unimpeachable left-wing blogosphere will bring you up to speed on all the relevant facts. Er, "facts."
Under the headline "Sarah Palin Gets Pink Panties From Creepy Arizona Sheriff," The Frisky's Jessica Wakeman shared the details of Sheriff Arpaio's lecherous overture:
Great moments in "ewwww": at a Tea Party rally in Phoenix, Arizona, on Friday, infamous anti-immigration Maricopa County sheriff Joe Arpaio handed Sarah Palin a pair of pink panties. Yes, panties!
Other left-wing bloggers piled on, delivering the incisive commentary we've come to expect:
Reporting on "the panty package," a TPM blogger joked, "No word on how Todd Palin reacted to the news."
"You know your attraction to women's underwear is a little out of control when you do things like this," admitted explained apparent panty fetish expert Charles Johnson.
Ed Brayton, a self-identified "journalist" at ScienceBlogs wrote, "Strange women flying about from Alaska receiving pink panties is no basis for a system of government."
"This is SO messed up…please tell me this is a joke," said Pam Spaulding.
Name It Change It, a project of the Women's Media Center that tracks sexist incidents in the media, called Arpaio "really damn sexist," adding that the Sheriff's "use of a national female politician to delploy [sic] sexism as a publicity stunt is deplorable."
John Cole at Balloon Juice described the sheriff's gift as "just creepy and weird" (right after posting the creepy and weird panty pic above).
And the ever classy Gawker offered this Photoshop of the governor's meeting with Sheriff Arpaio: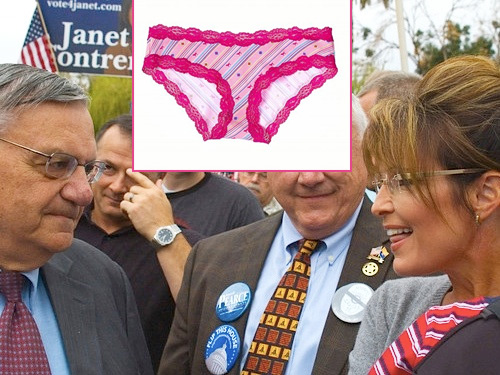 So why haven't more of us heard about the sheriff's inappropriate, sexually charged gesture? Hmm … maybe because it never happened.
After meeting Governor Palin, Sheriff Arpaio tweeted:
Just got done welcoming Sarah Palin to our County. Had a nice chat and gave her a pair of pink underwear.
Add "pink underwear" to the moonbat mixer, blend until frothy, and BAM!: the sheriff has a creepy panty fetish.
Hey, lefties: learn to Read the Freakin' Google (and not just when it suits your political goals). The oh-so risqué pink undergarments Arpaio hands out as souvenirs are the same ones he's famous for selling via his charity Web site, PinkUnderwear.com, and they look an awful lot like novelty boxers (pictured on the next page):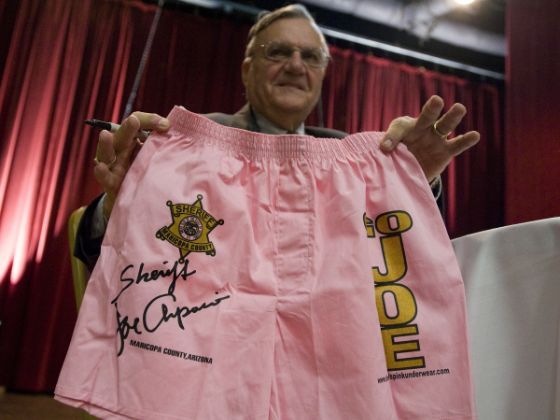 His site explains:
When Sheriff Joe learned that Maricopa County Inmates were stealing their jailhouse whites, he had all the boxers dyed pink. Inventory control improved, so the undershirts followed – then the sheets, socks, towels, and everything down to the handcuffs.
The boxer shorts are now sold online and at charity events to raise funds for youth mentoring programs in Maricopa County.
But of course, at the mere mention of unmentionables by a conservative politician, left-wing bloggers began to work their knickers into knots, praying to the Flying Spaghetti Monster that Arpaio really did sexually harass Palin with a gift of pink lingerie. Hopes and prayers morphed into truth and facts, as often happens with this crowd, and the pink panty meme was born.
Writing at the fetid intellectual wasteland called Pandagon, Jesse Taylor delighted in using the sheriff's tweet to analyze the psychosexual motives of the entire Tea Party Movement:
Not that I'm saying that the Tea Party may contain an incredibly disturbing psychosexual undercurrent focused on fetishizing powerful women that are still ideologically beholden to them, but f–k it, I am.
This is the sexually demeaning brand of "feminism" found at Pandagon and other left-wing feminist blogs. Souvenir boxers are an opportunity to sexualize and degrade politicians. Ideological opponents are smeared as sexual oppressors working to keep womenfolk enslaved and beholden. And the pleasure of sadism is the driving force behind conservatism.
But it's the Tea Party Movement that contains a "disturbing psychosexual undercurrent"?
Oh, if only Tea Party women could be as enlightened as Jesse Taylor and his fellow bloggers on the Left. When will those dumb Tea Party broads get it through their thick, sexually fetishized skulls that Jesse knows what's best for them. And he only hits because he loves.
—–
Follow me on Twitter.
Originally published on August 14, 2010 at David Horowitz's NewsReal
———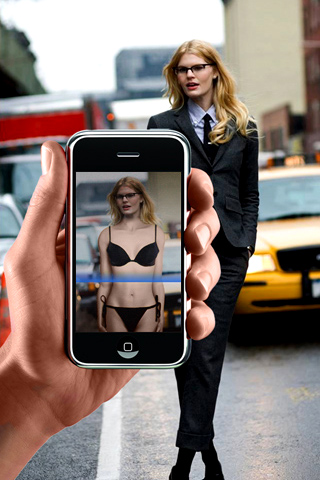 Last week The American Prospect revealed an unsettling workplace trend. This discovery is completely unanticipated, so prepare to be shocked.
When female coworkers are out of earshot, men sometimes talk about them. Just awful, right? And guys aren't just discussing the work habits of their female colleagues — occasionally they mention their looks!
This is the new "sexual harassment": not the groping, fondling, and obscene comments of yesteryear, but "what's said about [women] when their backs are turned." According to the Prospect's Ann Friedman, "behind-their-back comments are also intimidation and bullying of a sexual nature." And this indirect harassment is even worse than dealing with run-of-the-mill lewdness from male coworkers.
[G]iven that networking and reputation are keys to success in many professions, what people say about you is arguably more important than what they say to your face. If your professional contacts are talking about your legs rather than your résumé, you're at a disadvantage. I know how to handle direct sexist comments. It's much harder to think about how to shut down a conversation about me that I may not even be aware of.
Watch out, guys: if you're hanging out at the bar after work, be sure to limit the leg talk to women who aren't coworkers. Unless, of course, the owners of said legs are around to "handle" the comments. Got it?
Friedman describes some of the other conversations that would be off limits in her Utopian vision of a world in which men no longer talk about attractive women:

Some of the guys you talk to about women are our friends — and they tell us what you're saying. That's how I found out that a female editor I know had garnered a totally unwarranted reputation as a flirt. How I know that a certain male editor likes to make side comments about the bodies of female interns. How I heard about an older male co-worker who wistfully expressed that he wishes he were 20 years younger so he could hit on the young women at the office.
So, let me get this straight. It's intimidation and bullying for a man to pine for his youth when he would have had a better chance with young women at the office. It's harassment for a guy to talk to his office buddies about the way interns look. And gossiping about the flirty personality of a coworker is completely out of bounds (when men do it).
Where exactly is the chauvinism here?
There's nothing sexist about guys digging chicks and vice versa. In fact, I'll let Ann Friedman in on a little secret: it's kind of how we keep the human species going. Simply talking about who's hot (or not) is a common and harmless pastime, even when it involves one's colleagues. And if Friedman was honest, she'd admit that talking about how coworkers look is something both sexes engage in. Equally.
But this isn't about honesty, it's about grievance mongering. Club Victimhood is open for business and Friedman is on hand to distribute all access passes. Dreaming up new classes of oppression and new categories of victimhood is how the so-called feminists on the Left build support for their movement. As with all flavors of Marxism, leftist feminism can't exist without ginned up resentment among the "oppressed." The social revolution will never come if the Left allows people to be content with their lives and secure in their equality as human beings.
And so we have the latest complaint for the perpetually aggrieved to latch onto: indirect sexual harassment. Have fun at work on Monday, fellas!
—–
Follow Jenn on Twitter.
Originally published on August 8, 2010 at David Horowitz's NewsReal
———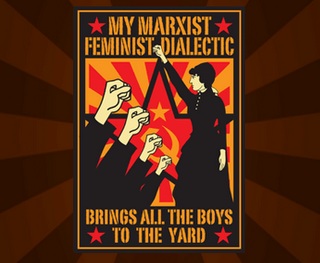 Imagine: you're paying $30,000 a year to send your kid to college and she calls to tell you her class schedule. "Monday and Wednesday mornings I'm taking 'The Phallus' and Tuesday and Thursday I have 'Rednecks, Queers, and Country Music.'"
"You're taking the what?"
These course titles aren't a joke.
Women's studies has long been a field in which scholarship takes a backseat to leftist activism and radical feminist politics. Although the discipline has "evolved" to encompass gender and sexuality studies, campus programs remain ideologically sterile laboratories designed to indoctrinate students into the ins and outs of the live-action role playing game they call feminism.
Typically gender studies departments are nothing more than vocational training programs for progressive activists. The political litmus tests and radical feminist indoctrination administered by these programs are well documented in One-Party Classroom
by David Horowitz and Jacob Laskin. When students sign up for classes like "Introduction to Women's Studies" at Penn State, they may not realize they're getting a "course in (rather than about) the ideology of radical feminism."
But not all gender studies classes have such innocuous titles. Here are 10 hit-you-over-the-head ridiculous gender and women's studies courses offered by American colleges and universities, starting with The Unbearable Whiteness of Barbie.  Read more