Originally published at NewsReal's That's What She Said
______
Four Afghan women have achieved something that would have been unimaginable a decade ago: they are training alongside male recruits to become pilots in the Afghan Air Force. Amidst headlines about poverty, illiteracy, and breathtaking levels of violence against women, their accomplishments are beyond heartening.
Second Lt. Sourya Saleh hopes to serve as a role model for other Afghan women after completing her aviation training in the United States.
"We are very happy to be going to open these doors for the other women to come and join the military, to show them you can do this and make our country proud," she said. "We want for all Afghan girls to know they can do anything."
Another newly minted officer, Second Lt. Mary Sharifzada, told the Air Force Times that becoming a pilot has been her dream since she was a little girl:
"I want to show the people of Afghanistan that women are strong," Sharifzada said. "We want to show the people of the world that the women of Afghanistan are strong and they can do anything they want."
"They said I'm as brave as a man," said Second Lt. Masooma Hussaini.
As brave as men, and according to Lt. Col. John Howard of the Thunder Lab training program, as capable as their male counterparts. But these women and future recruits may not get the chance to prove "they can do anything they want" if the United States selects Brazilian aircraft manufacturer Embraer to supply turboprop planes for the counterinsurgency effort in Afghanistan.
In the April 2011 issue of Smart Girl Nation, my friend Ashley Sewell explains how the Brazilian plane would bar skilled female pilots from flying Light Air Support (LAS) and light attack and armed reconnaissance (LAAR) missions:
The front-runners are the American-made Hawker Beechcraft AT-6 (a plane like the T-6 training aircraft that would accommodate 95% of women pilots) and the Brazilian-made Embraer EMB-314 (a plane that sticks to older standards thus eliminating the possibility of being flown by a woman).
Those older standards exclude more than 80 percent of women (and small men) from safely flying the planes that will be used to train and equip the Afghan Air Force.
There's no question that operational performance and pilot safety should be the primary criteria in choosing between the Embraer and Hawker Beechcraft planes. But if the two aircraft perform comparably, can we afford to indulge the Commander-in-Chief's childish love affair with Brazil, forcing the struggling Afghan Air Force to sideline much needed talent?
That's not the only reason the Hawker Beechcraft proposal is superior. Read more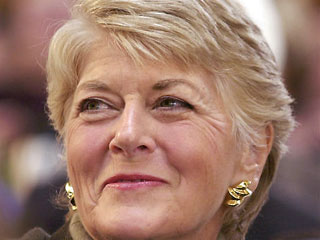 Originally posted at NewsReal's That's What She Said
Geraldine Ferraro, former NY congresswoman and the first woman on a major party presidential ticket, succumbed to blood cancer this morning. Greta Van Susteren writes:
Whether you are a Dem or a Repub, you have to admit, an extraordinary woman has died. Â She was the first and it meant so so so so much.
Fred Phelps and his Westboro cultists immediately began to celebrate the 1984 VP nominee's death.
Fred Phelps' daughter Margie tweeted:
She taught nation proud sin. She's in hell. #WBC will picket public memorial.
Rebekah Phelps-Roper wrote:
#Westboro rejoices when God kills His enemies!
And Shirley Phelps-Roper added:
The ONLY thing important for USA about Geraldine Ferraro is that God has righteously sent her to hell! #TaughtProudSin
I proudly support the First Amendment right of Americans to picket each and every Phelps family funeral. Vile gutter sludge.
RIP, Geraldine Ferraro.
Originally published on November 1, 2010 at David Horowitz's NewsReal
———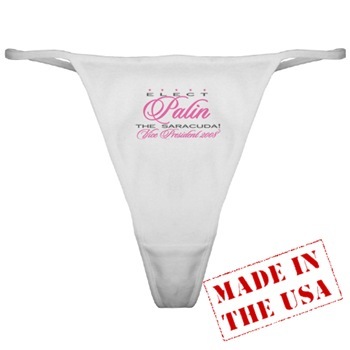 If you rely on the Reich-wing, Tea-tard propaganda machine for your information, you probably missed the news about the sexually suggestive gift Sarah Palin received from Maricopa County Sheriff Joe Arpaio last week: pink panties!
But no worries, the unimpeachable left-wing blogosphere will bring you up to speed on all the relevant facts. Er, "facts."
Under the headline "Sarah Palin Gets Pink Panties From Creepy Arizona Sheriff," The Frisky's Jessica Wakeman shared the details of Sheriff Arpaio's lecherous overture:
Great moments in "ewwww": at a Tea Party rally in Phoenix, Arizona, on Friday, infamous anti-immigration Maricopa County sheriff Joe Arpaio handed Sarah Palin a pair of pink panties. Yes, panties!
Other left-wing bloggers piled on, delivering the incisive commentary we've come to expect:
Reporting on "the panty package," a TPM blogger joked, "No word on how Todd Palin reacted to the news."
"You know your attraction to women's underwear is a little out of control when you do things like this," admitted explained apparent panty fetish expert Charles Johnson.
Ed Brayton, a self-identified "journalist" at ScienceBlogs wrote, "Strange women flying about from Alaska receiving pink panties is no basis for a system of government."
"This is SO messed up…please tell me this is a joke," said Pam Spaulding.
Name It Change It, a project of the Women's Media Center that tracks sexist incidents in the media, called Arpaio "really damn sexist," adding that the Sheriff's "use of a national female politician to delploy [sic] sexism as a publicity stunt is deplorable."
John Cole at Balloon Juice described the sheriff's gift as "just creepy and weird" (right after posting the creepy and weird panty pic above).
And the ever classy Gawker offered this Photoshop of the governor's meeting with Sheriff Arpaio: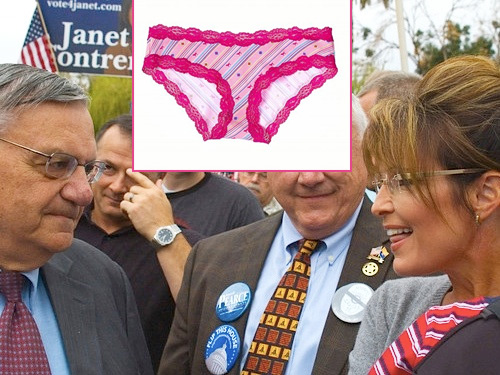 So why haven't more of us heard about the sheriff's inappropriate, sexually charged gesture? Hmm … maybe because it never happened.
After meeting Governor Palin, Sheriff Arpaio tweeted:
Just got done welcoming Sarah Palin to our County. Had a nice chat and gave her a pair of pink underwear.
Add "pink underwear" to the moonbat mixer, blend until frothy, and BAM!: the sheriff has a creepy panty fetish.
Hey, lefties: learn to Read the Freakin' Google (and not just when it suits your political goals). The oh-so risqué pink undergarments Arpaio hands out as souvenirs are the same ones he's famous for selling via his charity Web site, PinkUnderwear.com, and they look an awful lot like novelty boxers (pictured on the next page):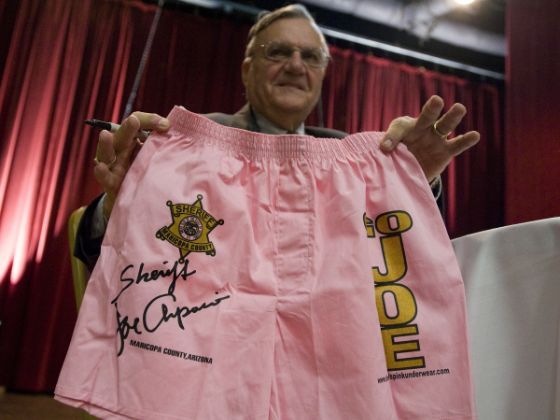 His site explains:
When Sheriff Joe learned that Maricopa County Inmates were stealing their jailhouse whites, he had all the boxers dyed pink. Inventory control improved, so the undershirts followed – then the sheets, socks, towels, and everything down to the handcuffs.
The boxer shorts are now sold online and at charity events to raise funds for youth mentoring programs in Maricopa County.
But of course, at the mere mention of unmentionables by a conservative politician, left-wing bloggers began to work their knickers into knots, praying to the Flying Spaghetti Monster that Arpaio really did sexually harass Palin with a gift of pink lingerie. Hopes and prayers morphed into truth and facts, as often happens with this crowd, and the pink panty meme was born.
Writing at the fetid intellectual wasteland called Pandagon, Jesse Taylor delighted in using the sheriff's tweet to analyze the psychosexual motives of the entire Tea Party Movement:
Not that I'm saying that the Tea Party may contain an incredibly disturbing psychosexual undercurrent focused on fetishizing powerful women that are still ideologically beholden to them, but f–k it, I am.
This is the sexually demeaning brand of "feminism" found at Pandagon and other left-wing feminist blogs. Souvenir boxers are an opportunity to sexualize and degrade politicians. Ideological opponents are smeared as sexual oppressors working to keep womenfolk enslaved and beholden. And the pleasure of sadism is the driving force behind conservatism.
But it's the Tea Party Movement that contains a "disturbing psychosexual undercurrent"?
Oh, if only Tea Party women could be as enlightened as Jesse Taylor and his fellow bloggers on the Left. When will those dumb Tea Party broads get it through their thick, sexually fetishized skulls that Jesse knows what's best for them. And he only hits because he loves.
—–
Follow me on Twitter.
Originally published on July 24, 2010 at David Horowitz's NewsReal
_____________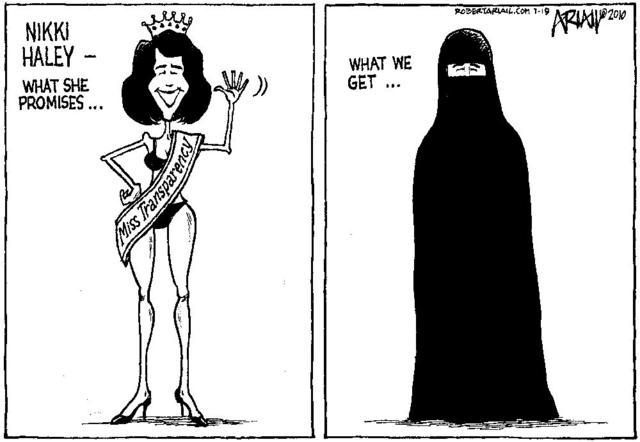 Nikki Haley whupped a whole lotta good ol' boy ass in the South Carolina GOP gubernatorial primary, trouncing her establishment opponents at the polls and leaving behind a battered pile of the state's nastiest corruptocrats and sleazebags. And boy are they pissed.
Now, just a month after Haley's victory, one Republican cartoonist has emerged from his gutter to dredge up the same vile race-baiting and sexism that failed to derail her primary campaign. In a cartoon published Tuesday (pictured above), Robert Ariail portrays the Indian-American gubernatorial candidate as a bikini-clad pageant queen in the first panel and a niqab-clad Muslim in the second. The cartoon explicitly echos previous race-, religion-, and gender-based attacks against Haley, a practicing Methodist raised in the Sikh tradition by her immigrant parents.
Ariail depicts Haley as a radical Muslim posing as an all American pageant contestant so she can put one over on voters. He claims that's totally different than when State Senator Jake Knotts described Haley as "a raghead that's ashamed of her religion trying to hide it behind being Methodist for political reasons."
The cartoon on Ms. Haley is, I think, pretty straight forward: It contrasts her campaign's message of open government and transparency ( which I support) with her recent closed-door meetings, her refusal to release House e-mail accounts and her explanations on consulting fees and what she did to earn them. The cartoon is neither salacious nor an ethnic or religious slur. I came up with the idea of her as "Miss Transparency" wearing the title sash and bikini and chose the burqa as the best clothing metaphor representing the opposite of transparency. The burqa is a visual metaphore I've used before to make similar points.
Let's get this out of the way right now: no one in South Carolina has taken greater risks to improve government transparency than Nikki Haley. These unimaginably titillating messages that might or might not lurk in her email archives are part of a manufactured controversy, one that provided an excuse for Ariail to revive the "Nikki Haley is a slutty secret Muslim" meme with his cartoon. He continues:
It is not about Ms. Haley's religion- after all, she was a Sikh, not a Muslim, before she became a Christian. Anyone who claims this cartoon is an ethnic or religious slur is deliberately misconstruing its simple, issue-oriented meaning.
Oh, of course. Can't you see? The cartoon wasn't about religion because the enlightened Mr. Ariail knows the difference between Muslims and Sikhs. That's why he couldn't possibly have intended his cartoon as a dog whistle to alert the state's bigots that Nikki Haley is different and ethnic and not really one of us. And it never crossed Ariail's mind that depicting Haley in a niqab was awfully reminiscent of the "raghead" incident (or that drawing her in a bikini next to the words "what she promises" would remind his audience of the Haley sex scandal that wasn't).
Spare me.
There are dozens if not hundreds of simple, reliable visual metaphors to convey lack of transparency. Either Robert Ariail is the most tone deaf cartoonist in the business, or he deliberately attempted to stoke doubt about a female candidate of Indian descent in the minds of bigots. The former is unlikely. A talented two-time Pulitzer finalist like Ariail doesn't achieve that level of success without a keen eye for subtext and nuance in politics.
Tapping into ethnic and religious bigotry is a repugnant political tactic. Fortunately, South Carolinians have proven it's an ineffective one as well.
Originally published on July 19, 2010 at David Horowitz's NewsReal
_____________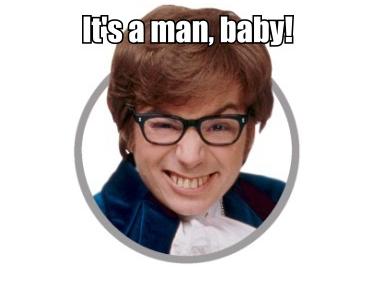 "That's not Sarah Palin. It's a man, baby!"
Is there a new Austin Powers film hitting the theaters? No, that's just the catty sentiment in Eleanor Clift's oh so magnanimous Newsweek column welcoming conservative women into the "feminist" fold. And Sarah Palin isn't just any man: she's anti-Semitic Holocaust revisionist Pat Buchanan. In drag.
Desperate to contribute something new to the earthshakingly important national conversation on whether Palin and her "mama grizzlies" are allowed to call themselves feminists, Clift offers conservative women a grudging olive branch slathered in sneering contempt:
Thirty years late to the battle for women's rights, they're claiming the mantle of feminism.

It's nice they're embracing feminism after demonizing the term for so long, and I welcome them to the arena. Let's see if they can do for women what their sisters on the left have done since the '70s, breaking down the barriers for women in all areas of American life including politics.
I think we know where Clift can stick that olive branch.
Clift's phony magnanimity doesn't begin to mask the true purpose of her column: to continue the Left's mission to destroy Palin with hateful smears and weaponized misogyny. Using an unnamed Republican as her mouthpiece, Clift opts for a bizarre twist on the tired "Bush in a skirt" attack:
A Republican source says Palin is nothing new, she's really Pat Buchanan in drag—the same issues except that her reality show is a lot more gripping. The media went overboard for Buchanan in 1996 when he won the New Hampshire primary, defeating establishment favorite Bob Dole. But the insurgent campaign of a former Nixon speechwriter can't compare with the ongoing soap opera of the Palins. Bristol and Levi together again!

When I ran the Palin-as-Buchanan theory past another Republican, a woman this time, she said that was an insult to Buchanan, who is deeply serious and has thought about these issues. She doesn't agree with his conclusions, but he rode the rocket at a moment in time, just as Palin is poised to do.
When Pat Buchanan is stuck for a column idea, he regurgitates al-Qaeda propaganda or spews Holocaust revisionism and calls it a day. Sarah Palin is a tireless supporter of Israel. Buchanan compared the "Free Gaza" flotilla passengers to civil rights protesters. Palin denounced the "vicious thugs" for their staged provocation of our ally.
Pat Buchanan's name is nearly synonymous with Nazi apologia. He defends Nazi war criminals, lauds Hitler's "genius," and rants about Jewish conspiracies. His vile, anti-Semitic columns are an embarrassment to the Right. (Is it any wonder MSNBC keeps him around?)
Anyone else having trouble seeing the similarity between Palin and Buchanan?
There's no comparison. Eleanor Clift is simply playing the Left's Mad Libs-style smear game:
[conservative woman we hate] is [nasty conservative man] in [something that confers faux femininity]
The blanks were there; Clift just filled them in:
[Sarah Palin] is [Pat Buchanan] in [drag]
This is an insult used time and again to delegitimize women on the Right by turning them into mannish faux women. Nikki Haley is "little more than Mark Sanford in drag," Carly Fiorina is "Dick Cheney in a skirt," and Sarah Palin is all of the above and more: George Bush in a skirt, Dan Quayle with an up-do, and of course, Dick Cheney in lipstick.
See the pattern?
Only "progressive" women qualify as Real Women; Palin, Haley, and other "mama grizzlies" are merely masquerading as female by decorating themselves with skirts, up-dos, lipstick and other trappings of womanhood. The goal of this misogynist attack is to dehumanize the target by casting her out of her very gender.
Clift takes this strategy one step further by smearing Palin as a sub par transvestite version of one of the most detestable men on the American Right. She pretends to welcome Palin into the leftist sisterhood, hoping Palin will take the bait and subject herself to a good ol' fashioned hazing.
Not. Gonna. Happen.
Sarah Palin and the nation's conservative women aren't looking for Eleanor Clift's approval. We don't need permission to use the feminist label that's been trampled and abused by the Left during their multi-decade assault on women via Big Daddy Government. And we're not fooled by thinly veiled contempt couched in condescending acceptance of mama grizzlies.
So, Ms. Clift, forgive us if we don't accept a slimy little olive branch from the person who once named Cindy Sheehan "Woman of the Year." We're doing just fine without you.
Update: Doug Brady at Conservatives4Palin.com reminds us, "This isn't the first time the Palin-obsessed Clift has tried to tie her to Buchanan." Read the whole thing at C4P.
Originally published on June 28, 2010 at David Horowitz's NewsReal
_____________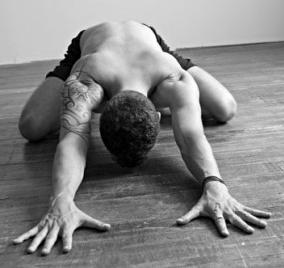 Mark Morford, misogynist Obama worshipper
Mark Morford's San Francisco Chronicle column is what a leftist's diary might look like — if that leftist was a horny 14-year-old with a man-sized crush on Obama and a predilection for verbally abusing conservative women. Hmm. Scratch that. Morford's column is exactly what a leftist's diary would look like.
You might recognize Morford as the drooling Obama fetishist who proclaimed candidate Obama a "rare kind of attuned being" and a "Lightworker." Or perhaps you remember his enlightened progressive description of "docile doormat" Laura Bush as "the ideal Republican wife: Prim, sexless, nearly useless, lets the men do the real thinkin."
So really, who better to appoint himself this week's Grand Arbiter of True Feminism?
Finding few reasons to gush about the Obama presidency, Morford's current mission is to expose the "perverted kind of new womanhood" of Sarah Palin, Meg Whitman, and Nikki Haley. Ladies of the Left beware! warns Morford. The success of these "largely insufferable" conservative women comes packaged with a "s–bag of downsides, drawbacks, jackals and bitches."
You kiss your mama with that mouth, Mark?
After a handful of slobbering sentences about progressive men with "perfectly sculpted genitalia" (no, I'm not kidding) and several more about their fat and sweaty Republican counterparts, Morford uses his column to explain that conservative women aren't allowed to be feminists and don't actually qualify as women anyway:
Witness, won't you, the zeitgeist's nightmare trifecta of largely insufferable women, the Sarah Palin/Carly Fiorina/Michele Bachmann hydra-headed hellbeast of pseudo-women, one part huge cash reserves, one part evil grammar-abusing ditzball psychopath, one part sassy misinformed moxie, overlaid with wonky ideas of motherhood, love of guns and ignorance of sex and reproductive rights.

These, along with Meg "I'm a Billionaire!" Whitman and Nikki "Sarah Palin hugged me!" Haley, et al, are the apparent "champions" of a perverted kind of new womanhood, some sort of mutant breed who claim it's entirely possible, even desirable to be "pro-life and pro-feminist," which is a bit like saying you're "pro-oil spill and pro-environment."

In other words: Sorry, no. No f–ing way. This is the rule: You do not ever get to say you're any kind of feminist or champion of women and mothers everywhere, and in the same breath add that you also believe no woman should have control over her reproductive powers and, by the way, poor immigrant women should be sent back to Mexico and guns should be legal for all.
Another day, another tiresome attempt to dehumanize conservative women and belittle their accomplishments with absurd caricatures, vicious insults, and largely insufferable prose.
But at least Morford's portrayal of successful conservative women as "some sort of mutant breed" of "pseudo-women" was condemned by the feminist Left, wasn't it? No, as usual a man who calls himself progressive gets a free pass on misogyny as leftist women lap up puddles of his hateful venom.
A Jezebel writer calls his piece "a thoughtful column." "Love this thoughtful and insightful rant," writes Caitlin Kelly at True/Slant. British journalist Alison Clarke thinks Morford is "just plain wrong," but only because he fails to acknowledge that enlightened feminists like her already know that conservative women are "a whole delightful s–bag of downsides."
Men on the Left have had it affirmed for them time and again that misogyny is perfectly acceptable – even desirable – as long as women on the Right are the targets. Even public rape fantasies about conservative women are excused. As long as these men are good little lefty foot soldiers, they're welcome to direct all manner of misogyny toward women who fail to toe the line on abortion, gun control, and illegal immigration.
So, Mark. As long as we're making up rules, here's one for you: You do not ever get to create feminist litmus tests, and in the same breath call Sarah Palin, Nikki Haley, and others pseudo-women and bitches.
I think it's clear who the real anti-feminist is.
Update: Sister Toldjah also has a few choice words for Mark Morford.