Originally published on July 24, 2010 at David Horowitz's NewsReal
_____________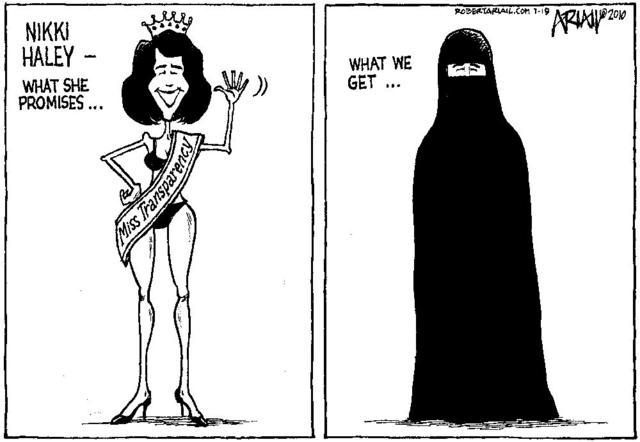 Nikki Haley whupped a whole lotta good ol' boy ass in the South Carolina GOP gubernatorial primary, trouncing her establishment opponents at the polls and leaving behind a battered pile of the state's nastiest corruptocrats and sleazebags. And boy are they pissed.
Now, just a month after Haley's victory, one Republican cartoonist has emerged from his gutter to dredge up the same vile race-baiting and sexism that failed to derail her primary campaign. In a cartoon published Tuesday (pictured above), Robert Ariail portrays the Indian-American gubernatorial candidate as a bikini-clad pageant queen in the first panel and a niqab-clad Muslim in the second. The cartoon explicitly echos previous race-, religion-, and gender-based attacks against Haley, a practicing Methodist raised in the Sikh tradition by her immigrant parents.
Ariail depicts Haley as a radical Muslim posing as an all American pageant contestant so she can put one over on voters. He claims that's totally different than when State Senator Jake Knotts described Haley as "a raghead that's ashamed of her religion trying to hide it behind being Methodist for political reasons."
The cartoon on Ms. Haley is, I think, pretty straight forward: It contrasts her campaign's message of open government and transparency ( which I support) with her recent closed-door meetings, her refusal to release House e-mail accounts and her explanations on consulting fees and what she did to earn them. The cartoon is neither salacious nor an ethnic or religious slur. I came up with the idea of her as "Miss Transparency" wearing the title sash and bikini and chose the burqa as the best clothing metaphor representing the opposite of transparency. The burqa is a visual metaphore I've used before to make similar points.
Let's get this out of the way right now: no one in South Carolina has taken greater risks to improve government transparency than Nikki Haley. These unimaginably titillating messages that might or might not lurk in her email archives are part of a manufactured controversy, one that provided an excuse for Ariail to revive the "Nikki Haley is a slutty secret Muslim" meme with his cartoon. He continues:
It is not about Ms. Haley's religion- after all, she was a Sikh, not a Muslim, before she became a Christian. Anyone who claims this cartoon is an ethnic or religious slur is deliberately misconstruing its simple, issue-oriented meaning.
Oh, of course. Can't you see? The cartoon wasn't about religion because the enlightened Mr. Ariail knows the difference between Muslims and Sikhs. That's why he couldn't possibly have intended his cartoon as a dog whistle to alert the state's bigots that Nikki Haley is different and ethnic and not really one of us. And it never crossed Ariail's mind that depicting Haley in a niqab was awfully reminiscent of the "raghead" incident (or that drawing her in a bikini next to the words "what she promises" would remind his audience of the Haley sex scandal that wasn't).
Spare me.
There are dozens if not hundreds of simple, reliable visual metaphors to convey lack of transparency. Either Robert Ariail is the most tone deaf cartoonist in the business, or he deliberately attempted to stoke doubt about a female candidate of Indian descent in the minds of bigots. The former is unlikely. A talented two-time Pulitzer finalist like Ariail doesn't achieve that level of success without a keen eye for subtext and nuance in politics.
Tapping into ethnic and religious bigotry is a repugnant political tactic. Fortunately, South Carolinians have proven it's an ineffective one as well.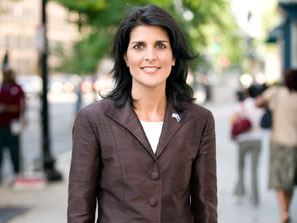 A month ago, few people outside of South Carolina knew of State Rep. Nikki Haley.  But that didn't stop her opponents from wetting themselves when Haley picked up some impressive endorsements and her gubernatorial campaign gained momentum.
Don't worry, said their trusty consultants as they mopped up the puddles, a scarlet letter oughta finish her off. And if a little old fashioned slut-baiting doesn't do the trick, we'll just make sure everyone knows Nimrata Randhawa Haley is secret "raghead."  Trust us, the good ol' boys in South Cackalacky know just how to handle a foreign lady who's in our way.
And thus began their Hail Mary pass to sideline the uppity woman with the ethnic name.
Why bother? Because Haley's record of fighting for transparent government is a direct threat to politics as usual at the Statehouse.  South Carolina's good ol' boys are terrified that Haley will force on-the-record legislative voting, so they scraped the sewers for the scummiest strategy imaginable.
Up first was Will Folks, the fiancée-beating degenerate who titillated the drooling media with unsubstantiated tales of his "inappropriate physical relationship" with Haley. Haley has been married for 13 years and Folks claims the affair occurred in 2007.
News organizations from the New York Times to the Greenville News printed Folks' allegations, dutifully including the contention that he was a longtime Haley cheerleader.  Oddly, none of them mentioned that just after Haley announced her gubernatorial bid, Folks posted a mock interview in which he threatened her with violence:
You need to learn to count. And while you're at it, shut your mouth. Don't you know I beat up women, like all the time? Nikki, what I'm saying is that if you can't beat these [inaudible] mouth-breathing, inbred knuckle-draggers with one hand tied behind your back then someone should raise a fist up against you.
What could have possibly motivated this fine upstanding gentleman to help undermine Haley's candidacy? After all, entering a guilty plea on one criminal domestic violence charge couldn't mean he's got a problem with the ladies, now could it?  Perhaps this diehard Haley supporter will come clean about his hatred of women in the book he's currently shopping … if the price is right.
Next at bat was Larry Marchant, former employer of Will Folks and a paid consultant to gubernatorial candidate Lt. Gov. Andre Bauer. Marchant just happened to pick the week before the primary to tell the world that he and Haley had a one night stand in 2008. The proof? Why, his word, that's the proof!  If it's good enough for the media, it should be good enough for you.
Starting to see how this works?
Haley says she's been 100 percent faithful to her husband throughout their marriage, and even promised to resign if any allegations are proven.  But proof isn't really the point. The point is to raise doubt about her virtue and leave voters with the indelible impression of a home wrecking hussy who sluts around Columbia with all sorts of sleazeballs.
And that impression is just fine with Lt. Gov. Andre Bauer.  In a Friday press release, Bauer suggested that Haley take a lie detector test, presumably because a lying whore can't be taken at her word.  But a couple of jowly dudes talking smack about the hot chick they banged?  Totally credible in Bauer's neck of the gutter.  As Melissa Clouthier noted, there is "deep misogyny" involved in this campaign to sink Haley.
As if the misogyny weren't bad enough, Haley's opponents are bringing other forms of bigotry into the mix.  U.S. Rep. Gresham Barrett's team reportedly "discussed playing the religion card" against Haley (who his aides privately refer to as "Nimrata"). And Friday morning, a member of the Bauer campaign emailed supporters an article that asks:
After seeing how the faith issue hurt Mitt Romney and damaged Barack Obama to some extent as well, is Haley making a political decision by playing up her Christian faith (just like Obama did) and LOSING the Sikh emphasis?
Haley was raised Sikh and converted to Christianity. But again, that's not really the point, is it? Haley's religious roots are being emphasized in an attempt to paint her as a scary outsider, someone who can't govern South Carolina because she isn't like us.
Anyone taking bets on how long it'll be until someone asks for her birth certificate?  Better yet, will State Senator Jake Knotts be the first? The Free Times reports:
"She's a f#!king raghead," Knotts said.

He later clarified his statement. He did not mean to use the F-word.

Knotts says he believed Haley has been set up by a network of Sikhs and was programmed to run for governor of South Carolina by outside influences in foreign countries. He claims she is hiding her religion and he wants the voters to know about it.

"We got a raghead in Washington; we don't need one in South Carolina," Knotts said more than once. "She's a raghead that's ashamed of her religion trying to hid it behind being Methodist for political reasons."
Knotts, a Bauer supporter, says he's called Haley a "raghead" a number of times and that he was just joking.  He added, "I still believe Ms. Haley is pretending to be someone she is not, much as Obama did, but I apologize to both for an unintended slur."
This isn't the first time Knotts attempted the "I was joking" excuse to get out of a sticky situation.  Here's the ProQuest abstract of a Jun 6, 1996 Sentinel article titled "White Lawmaker Angers Blacks":
Several black and white legislators objected when South Carolina state Rep Jake Knotts introduced amendments to the black monument bill that would have created monuments for Scottish-Americans, Polish-Americans and others. Knotts later announced that he had only been joking about the bill.
Oh, but there's more.  In 2003, Knotts worked himself into a frenzy over a group of Somali Bantu refugees who were going to be "dumped" in his district.  He insisted the 40-50 Bantu children would "lower our SAT scores and our accountability." (The State, Jun 28, 2003)
Hmm, seems like the persecuted immigrants didn't need to bring any stupid. Knotts made sure there was plenty to go around.
With a despicable history like that, would it be surprising if we learned that political operatives sent Knotts to tape a live talk show knowing that he wouldn't bother to self-censor his bigotry?  Is is out of the realm of possibility that they wanted–even encouraged–him to blow the dog whistle, alerting fellow bigots to the "raghead" in our midst?
Just like allegations of adultery were intended to tap into existing voter misogyny, these religious and ethnic slurs were designed to exploit voter bigotry.  Bigotry that doesn't exist at anywhere near the levels bigots think it does.
When Nikki Haley launched her campaign in May 2009, reporter John O'Connor wrote, "To become governor, Haley will have to overcome questions about her Indian heritage and whether S.C. voters will accept a woman chief executive."
A year later, Haley is leading the race.  I guess she overcame those questions more easily than her opponents hoped.  Now it's time to focus on the issues that matter to the people of South Carolina.
Full disclosure: I am a volunteer with Nikki Haley's gubernatorial campaign.
Remember Katon Dawson? He made headlines in 2008 for resigning his membership in a whites-only country club shortly before launching an unsuccessful bid for Republican National Committee chair.
Dawson's supporters included Glenn McCall, a black RNC committeeman who offered effusive praise for Dawson's decision to cancel his membership:

I see what Katon did as evidence of his commitment to including and involving people from all walks of life and all races. Katon took a stand for what was right. He stood up in front of his friends at the club and told them what they were doing was wrong, and when they refused to change, he decided to leave.
Just one problem: Katon Dawson never gave up his membership at the exclusive Forest Lake Country Club.  His very public resignation was a sham, quietly dispensed with after losing the RNC chairmanship to Michael Steele.
Accordingly, Dawson never technically "rejoined" the club in 2009, as he has been privately telling supporters.

Sources familiar with the club's financial records tell FITS that Dawson actually paid his membership dues at the Forest Lake Country Club in Columbia, S.C. throughout the RNC campaign – and as a result was never removed from the club's membership rolls.

"He paid in advance for the duration of his leave," one of the sources told FITS.  "He has never not been a member of Forest Lake."

Another source said Dawson paid five months worth of dues in advance.
This news comes as no surprise to critics who questioned the politically expedient timing of his faux resignation.  After all, in the twenty-first century, racially exclusive clubs are a no-no even when you're not campaigning.
Dawson heads to Hawaii later this month to attend the RNC meeting.  Last week he told CNN he would serve as South Carolina GOP chairwoman Karen Floyd's proxy at the meeting, but a South Carolina GOP spokesperson denies that was ever the plan.
Dawson says he's "not ready to comment" on why he won't be attending the meeting in an official capacity.  Oh, Katon, Katon, Katon, I think we all know why.
It's no secret that President Obama and his administration have attempted to sideline Fox News, openly punishing the highly rated cable news channel for failing to promote the White House agenda.  Fox was conspicuously shut out of Obama's five-network Sunday talk show blitz in September, and the White House has already determined that the president will not grant any interviews to Fox anchors during the remainder of 2009.
Alienating the millions of Americans who watch Fox is strategic buffoonery of the highest degree. But why focus on solid strategy when you can engage in some good ol' fashioned spite?  And why settle for popular news networks when you can make your petty resentments known to an entire state, like say, South Carolina?
U.S. House Majority Whip Jim Clyburn said Friday that a conversation with White House staff left him with the sense that a hostile environment in South Carolina is keeping the first lady from visiting.

The high-ranking South Carolina Democrat said he has received more than 100 invitations for Michelle Obama. But this summer when he brought one of those requests to her staff on behalf of his alma mater, South Carolina State University, Clyburn said her security was an issue.

The conversation came after former Richland County GOP activist Rusty DePass suggested on Facebook in June that an escaped zoo gorilla was not harmful because it was probably one of Mrs. Obama's ancestors. DePass' comment was coupled with a remark in July from U.S. Sen. Jim DeMint, a Republican. DeMint said that beating the president's health care plan would be a 'Waterloo' moment for Obama.

Congressman Joe Wilson's 'You lie!' outburst during Obama's joint address on health care reform last month didn't help either, Clyburn said.

'A lot of it has to do with the fact that the climate in South Carolina just is not good, and that's a shame,' Clyburn said at a roundtable discussion at his Columbia office.

'I do believe it is keeping her away from this state,' he said.
Emphases mine.
Yes, a moronic South Carolina GOP grunt wrote something shameful about the first lady and a couple of politicians made bold statements about the president and his policies.  How do those comments indicate a statewide climate hostile enough to jeopardize Mrs. Obama's security?
Simple answer: they don't.
The White House isn't keeping Michelle Obama out of South Carolina to protect her from assassins in white hoods.  South Carolina is being kept off her itinerary to send a message: embarrassing the president will not be tolerated.  (Are you listening Joe Wilson?) Dissent will be contorted into proof that racist backwater bumpkins in the south are undermining Obama's presidency and endangering the very life of the first lady with their dangerous coded rhetoric.
Who cares about smearing the people of South Carolina?  After all, it's just a red state.
Update: Michelle Malkin links.  Thanks, Michelle!
Update 2: My very first Instalanche. Thanks, Glenn!
South Carolina Attorney General Henry McMaster (R) is running for governor.  He knows it, citizens know it.
Although he hasn't officially declared his candidacy, McMaster's campaign is in full swing.  Moments ago I received a press release from McMaster for Attorney General announcing his mission to have the South Carolina Law Enforcement Division comb through Governor Mark Sanford's travel records.
McMaster Requests SLED Review All Sanford
Travel Records in Light of New Revelations

Columbia, S.C. June 30, 2009 – "In light of the governor's disclosure of additional travel today, I have requested that SLED conduct a preliminary review of all Governor Sanford's travel records to determine if any laws have been broken or any state funds misused."

###
A review of Governor Sanford's records is completely appropriate given his recent admission of international dalliances with his girlfriend.  But Henry McMaster's use of the inquiry to troll for political contributions is classless politicking at its worst.  McMaster for Attorney General distributed the press release about the Sanford investigation just hours after sending out a plea for second quarter campaign contributions to be made before midnight tonight.
Henry McMaster's intent is completely transparent, but that's not the sort of transparency we need in South Carolina government.
Clucking hens and crowing roosters, go back to your coops.  Unless you're Jenny Sanford, it's time to forgo the unseemly impulse to tar and feather South Carolina Governor Mark Sanford for his marital infidelity.
Governor Sanford engaged in what might be the most vanilla extramarital affair in recent political history.  His sexual liaison did not result in a federal probe, the payment of hush money, or any of the truly illicit scandals that have surfaced among politicians lately. Barring the disclosure that his girlfriend is actually an Argentine farm animal or underage hooker, the public has no business using Sanford's affair to oust him from office.
If there's any truth to the gossip about Governor Sanford's official conduct, the people of South Carolina will hold him accountable.  To that end, the rumors oozing from the Columbia political grapevine should be addressed as soon as possible.  But if we determine that Sanford maintained appropriate contact with his staff during his trip to Argentina and did not misappropriate state resources to fund his trips, his affair is no reason to abridge his gubernatorial term.
The governor experienced a moral lapse.  But this isn't some fable in which the king's transgressions expose the entire kingdom to drought and famine. Mark Sanford broke vows he made to his wife Jenny, not to his supporters and not to the people of his state.
If you don't like a guy who cheats on his wife, don't marry one.  Don't befriend one.  Go ahead and sympathize with his wife. Call him a hypocrite and a scumbag, and be grateful he's not your spouse.  But remember that point: he isn't your husband and you're not his jilted wife.
There's no reason to assume infidelity in marriage is a precursor to a politician's betrayal of his constituents.  Violation of marital trust is a very different animal than violation of public trust. And personal integrity just isn't a reliable measure of professional integrity.
Can a man act as a politically principled, trustworthy leader while betraying his wife's trust and his own ideals?  Distasteful as it might seem, the answer is yes.  The pacts we make are independent of each other, and we're capable of maintaining surprisingly rigid compartmentalization in our lives.  It is entirely possible to be a loyal friend and a cheating spouse, a diligent employee and an unreliable friend, or even a successful governor and an unfaithful husband.
South Carolinians voted for Mark Sanford believing that his moral compass pointed in the same direction as their own.  His compass spun out of control for a short time, but that doesn't mean his values and vision for the state are any different than when he was elected.
Mrs. Sanford may or may not be able to forgive her husband's affair. But for the rest of us, there's nothing to forgive.  Did citizens go to the voting booth looking for husband material or to elect a principled conservative to lead a reform movement in South Carolina?
I don't need my politicians to lead by example, I need them to be exemplary leaders.
So let's quibble about whether Mark Sanford is a good governor.  Let's pick apart his conservative principles and see if his achievements measure up to our expectations.  And if and when he runs for office again, we can decide whether to hold Sanford's moral failures against him.
But let's leave these affairs of the heart to be sorted out by Mark and Jenny Sanford.  They don't need our input and scarlet letters are simply passé.