Originally published on July 29, 2010 at David Horowitz's NewsReal
_____________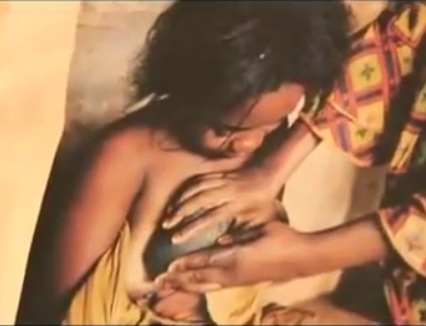 Little girls in Cameroon are being betrayed by their own mothers. Using piping hot stones, women "iron" their pubescent daughters' breasts to destroy any visible sign of budding womanhood. Some of the victims of this torture are as young as nine.
The scars are horrific.
Women say it is love that drives them to brutalize their daughters this way, that they just want to protect young girls from being raped or becoming pregnant at an early age. Instead, they end up with daughters who are both mutilated and pregnant. Not only are the girls disfigured, but many suffer infection, pain, psychological distress, and damage to the breast tissue that can cause lactation difficulties and perhaps even breast cancer.
As with female genital mutilation, girls are having their bodies violated in unthinkable ways in order to control their sexuality. Why bother to address a high teen pregnancy rate with education about sex and birth control when you can scald away the flesh from your daughter's chest? And of course, it's easier to blame little girls for being too enticing than it is to repair a culture in which rape and assault are prevalent.
Please watch the documentary embedded below for more on this cruelty. (Note: The video contains some nudity.)
The next time you hear a so-called feminist demanding the passage of the Paycheck Fairness Act or exploding with outrage at the inhumanity of being forced to pay for abortion, remind her that the systematic abuse of women and girls is real. She's just never experienced it.
Originally published on July 24, 2010 at David Horowitz's NewsReal
_____________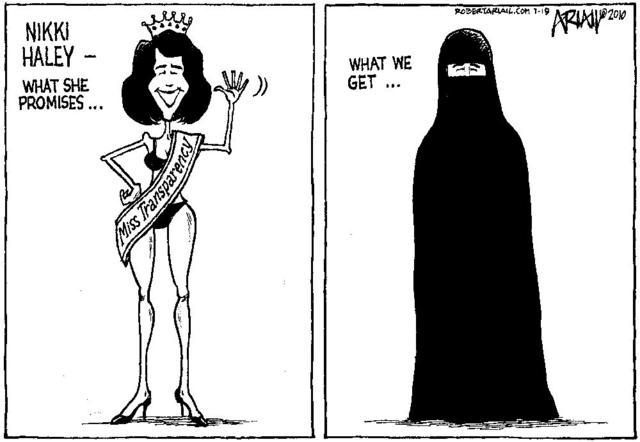 Nikki Haley whupped a whole lotta good ol' boy ass in the South Carolina GOP gubernatorial primary, trouncing her establishment opponents at the polls and leaving behind a battered pile of the state's nastiest corruptocrats and sleazebags. And boy are they pissed.
Now, just a month after Haley's victory, one Republican cartoonist has emerged from his gutter to dredge up the same vile race-baiting and sexism that failed to derail her primary campaign. In a cartoon published Tuesday (pictured above), Robert Ariail portrays the Indian-American gubernatorial candidate as a bikini-clad pageant queen in the first panel and a niqab-clad Muslim in the second. The cartoon explicitly echos previous race-, religion-, and gender-based attacks against Haley, a practicing Methodist raised in the Sikh tradition by her immigrant parents.
Ariail depicts Haley as a radical Muslim posing as an all American pageant contestant so she can put one over on voters. He claims that's totally different than when State Senator Jake Knotts described Haley as "a raghead that's ashamed of her religion trying to hide it behind being Methodist for political reasons."
The cartoon on Ms. Haley is, I think, pretty straight forward: It contrasts her campaign's message of open government and transparency ( which I support) with her recent closed-door meetings, her refusal to release House e-mail accounts and her explanations on consulting fees and what she did to earn them. The cartoon is neither salacious nor an ethnic or religious slur. I came up with the idea of her as "Miss Transparency" wearing the title sash and bikini and chose the burqa as the best clothing metaphor representing the opposite of transparency. The burqa is a visual metaphore I've used before to make similar points.
Let's get this out of the way right now: no one in South Carolina has taken greater risks to improve government transparency than Nikki Haley. These unimaginably titillating messages that might or might not lurk in her email archives are part of a manufactured controversy, one that provided an excuse for Ariail to revive the "Nikki Haley is a slutty secret Muslim" meme with his cartoon. He continues:
It is not about Ms. Haley's religion- after all, she was a Sikh, not a Muslim, before she became a Christian. Anyone who claims this cartoon is an ethnic or religious slur is deliberately misconstruing its simple, issue-oriented meaning.
Oh, of course. Can't you see? The cartoon wasn't about religion because the enlightened Mr. Ariail knows the difference between Muslims and Sikhs. That's why he couldn't possibly have intended his cartoon as a dog whistle to alert the state's bigots that Nikki Haley is different and ethnic and not really one of us. And it never crossed Ariail's mind that depicting Haley in a niqab was awfully reminiscent of the "raghead" incident (or that drawing her in a bikini next to the words "what she promises" would remind his audience of the Haley sex scandal that wasn't).
Spare me.
There are dozens if not hundreds of simple, reliable visual metaphors to convey lack of transparency. Either Robert Ariail is the most tone deaf cartoonist in the business, or he deliberately attempted to stoke doubt about a female candidate of Indian descent in the minds of bigots. The former is unlikely. A talented two-time Pulitzer finalist like Ariail doesn't achieve that level of success without a keen eye for subtext and nuance in politics.
Tapping into ethnic and religious bigotry is a repugnant political tactic. Fortunately, South Carolinians have proven it's an ineffective one as well.
Originally published on July 19, 2010 at David Horowitz's NewsReal
_____________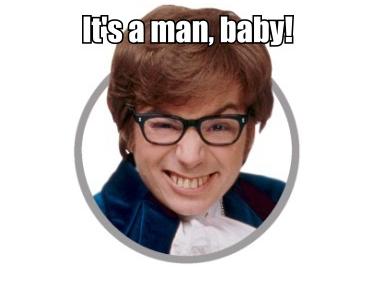 "That's not Sarah Palin. It's a man, baby!"
Is there a new Austin Powers film hitting the theaters? No, that's just the catty sentiment in Eleanor Clift's oh so magnanimous Newsweek column welcoming conservative women into the "feminist" fold. And Sarah Palin isn't just any man: she's anti-Semitic Holocaust revisionist Pat Buchanan. In drag.
Desperate to contribute something new to the earthshakingly important national conversation on whether Palin and her "mama grizzlies" are allowed to call themselves feminists, Clift offers conservative women a grudging olive branch slathered in sneering contempt:
Thirty years late to the battle for women's rights, they're claiming the mantle of feminism.

It's nice they're embracing feminism after demonizing the term for so long, and I welcome them to the arena. Let's see if they can do for women what their sisters on the left have done since the '70s, breaking down the barriers for women in all areas of American life including politics.
I think we know where Clift can stick that olive branch.
Clift's phony magnanimity doesn't begin to mask the true purpose of her column: to continue the Left's mission to destroy Palin with hateful smears and weaponized misogyny. Using an unnamed Republican as her mouthpiece, Clift opts for a bizarre twist on the tired "Bush in a skirt" attack:
A Republican source says Palin is nothing new, she's really Pat Buchanan in drag—the same issues except that her reality show is a lot more gripping. The media went overboard for Buchanan in 1996 when he won the New Hampshire primary, defeating establishment favorite Bob Dole. But the insurgent campaign of a former Nixon speechwriter can't compare with the ongoing soap opera of the Palins. Bristol and Levi together again!

When I ran the Palin-as-Buchanan theory past another Republican, a woman this time, she said that was an insult to Buchanan, who is deeply serious and has thought about these issues. She doesn't agree with his conclusions, but he rode the rocket at a moment in time, just as Palin is poised to do.
When Pat Buchanan is stuck for a column idea, he regurgitates al-Qaeda propaganda or spews Holocaust revisionism and calls it a day. Sarah Palin is a tireless supporter of Israel. Buchanan compared the "Free Gaza" flotilla passengers to civil rights protesters. Palin denounced the "vicious thugs" for their staged provocation of our ally.
Pat Buchanan's name is nearly synonymous with Nazi apologia. He defends Nazi war criminals, lauds Hitler's "genius," and rants about Jewish conspiracies. His vile, anti-Semitic columns are an embarrassment to the Right. (Is it any wonder MSNBC keeps him around?)
Anyone else having trouble seeing the similarity between Palin and Buchanan?
There's no comparison. Eleanor Clift is simply playing the Left's Mad Libs-style smear game:
[conservative woman we hate] is [nasty conservative man] in [something that confers faux femininity]
The blanks were there; Clift just filled them in:
[Sarah Palin] is [Pat Buchanan] in [drag]
This is an insult used time and again to delegitimize women on the Right by turning them into mannish faux women. Nikki Haley is "little more than Mark Sanford in drag," Carly Fiorina is "Dick Cheney in a skirt," and Sarah Palin is all of the above and more: George Bush in a skirt, Dan Quayle with an up-do, and of course, Dick Cheney in lipstick.
See the pattern?
Only "progressive" women qualify as Real Women; Palin, Haley, and other "mama grizzlies" are merely masquerading as female by decorating themselves with skirts, up-dos, lipstick and other trappings of womanhood. The goal of this misogynist attack is to dehumanize the target by casting her out of her very gender.
Clift takes this strategy one step further by smearing Palin as a sub par transvestite version of one of the most detestable men on the American Right. She pretends to welcome Palin into the leftist sisterhood, hoping Palin will take the bait and subject herself to a good ol' fashioned hazing.
Not. Gonna. Happen.
Sarah Palin and the nation's conservative women aren't looking for Eleanor Clift's approval. We don't need permission to use the feminist label that's been trampled and abused by the Left during their multi-decade assault on women via Big Daddy Government. And we're not fooled by thinly veiled contempt couched in condescending acceptance of mama grizzlies.
So, Ms. Clift, forgive us if we don't accept a slimy little olive branch from the person who once named Cindy Sheehan "Woman of the Year." We're doing just fine without you.
Update: Doug Brady at Conservatives4Palin.com reminds us, "This isn't the first time the Palin-obsessed Clift has tried to tie her to Buchanan." Read the whole thing at C4P.
Originally published on July 13, 2010 at David Horowitz's NewsReal
_____________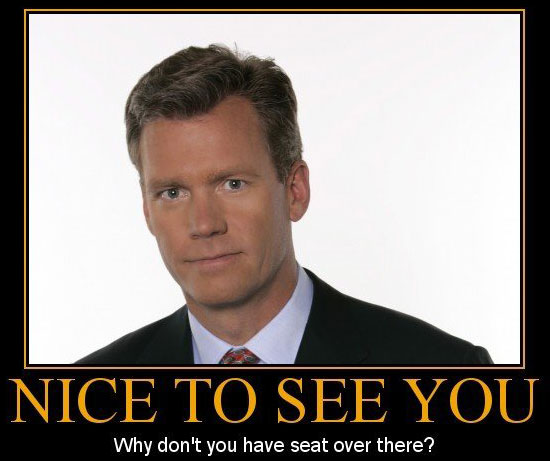 It's shaping up to be a busy week for David Frum, what with manning the speculum for Andrew Sullivan (OB-Atlantic), picking irrational fights with David Horowitz, and hourly dry humping of his blog visitor stats. Perhaps that's why honesty, integrity, and concern for his reputation fell completely to the wayside.
Visions of a traffic spike dancing before his eyes, Frum jumped to the defense of ex-NewsReal blogger Alex Knepper, intimating that Horowitz fired Knepper because he wouldn't toe the paleoconservative (?!) line. Today Frum doubled down at The Daily Dish, ridiculing NRB managing editor David Swindle for "accusing our young blogger of sexual perversion among other offenses."
Is David Frum sure he wants to go there?
If he's going to root for Team Alex, he might want to take a look at who else finds value in Knepper's work. For instance, Knepper's excoriation of the "sex offender lynch mob" was removed from NRB, but not before every word was lovingly preserved on a pro-sex offender agitprop site. The essay includes gems like this:
The result of this moral panic is that sex offenders of any kind — whether a stranger-rapist, child molester, someone who was peeking at kiddie porn, or even someone who had sex with a fourteen-year-old at the age of nineteen — are being denied their basic civil rights and liberties.
It is difficult to fathom and even harder to stomach, but lobbyist groups like SOSEN and Roar for Freedom exist to "abolish the sex offender registry and what they regard as 'harsh' laws against sex offenders." And one need not look further than Alex Knepper's writing to see some of their arguments on behalf of the poor, beleaguered sex offender community.
Knepper unmasked his sexual depravity even further last week when he submitted a foul piece of writing about teen idol Miley Cyrus that could easily pass for "youth liberation" propaganda. He argued against "our skewed epistemology of adulthood," insisting that a 17-year-old is a woman, not a girl.
Other sections of Knepper's essay further develop the morally bankrupt "age is just a number" argument. But instead of sharing them here, I have a challenge for David Frum:
David, if you truly believe that NewsReal Blog has unfairly branded Alex Knepper a pervert, publish his post about Miley Cyrus. Publish his defense of the sex offender "lynch mob." And point your readers toward his unseemly attack on rape survivors.
It's time to either fully own your uninformed knee-jerk defense of Alex Knepper or man up, admit your mistake, and kick Knepper to the gutter where he belongs.
Originally published on July 6, 2010 at David Horowitz's NewsReal
_____________
Is there any limit to the cruelty of the American conservative? These vicious sadists take great delight in harming people and reveling in their suffering, or so says Amanda Marcotte, noted expert on wha? huh? look over there!
The pleasure of sadism as [sic] always been a driving force behind movement conservatism. They've always taken a great deal of pleasure in attacking people's livelihoods for the hell of it, as I know all too well. They're [sic] always enjoyed sending a message that those who comfort the afflicted and afflict the powerful should expect pain and even ruin.

All that said, I think there's a reason to think that sadism for its own sake is on the rise within conservative ranks.
Amanda Marcotte is the editor of the blog Pandagon and author of two books on feminism and progressive politics. Her first book was so "progressive" it had to be reprinted after outraged readers called for a boycott over racially offensive illustrations.
Let's take a look at how Amanda defines "mindless sadism and cruelty."
Sadistic and cruel: Conservative bloggers and journalists quoting her writing.
These mindless sadists published examples of Amanda's religious bigotry, forcing her to resign from her cushy gig as a blogger for John Edwards' presidential campaign. (Being quoted verbatim is so mean and unfair!)
Not sadistic or cruel: Defending the practice of female genital nicking in the United States.
All they do is prick your genitals, or make a small cut that heals over, but nothing is removed. You're basically scratching the girl.
Sadistic and cruel: Andrew Breitbart's offer of a cash reward for the Journolist archive.
Amanda quotes Andrew Sullivan's condemnation of the power hungry Andrew Breitbarts of the world who "will do all they can to ransack your private life, cull your email in-tray, and use whatever material they have to unleash the moronic hounds of today's right-wing base." Hey, maybe she's onto something. If anyone knows the ransacking of private lives, it's Andrew Sullivan, cataloger of Sarah Palin's private email and The Atlantic's resident expert in forensic gynecology.
Not sadistic or cruel: Delighting in ruining the lives of the Duke lacrosse players accused of rape.
Sadistic and cruel: The GOP's opposition to Obamacare.
Republicans hate the poors and will do everything possible to keep them from getting health insurance. (For the sadistic pleasure, natch.)
Not sadistic or cruel: Forcing pro-life Americans to pay for abortions.
Sadistic and cruel: A GOP proposal to fund extended unemployment benefits with stimulus funds.
How dare the Republicans want unemployment benefits to be paid for without printing or borrowing money! This "pure, unadulterated a–holery" is because conservatives think the unemployed are lazy. If the unemployed don't suffer, how will conservatives soak in bathtubs filled to the brim with the sweet, sweet tears of anguish shed by families in pain?
Not sadistic or cruel: Promoting third trimester abortions for women in psychiatric distress.
*********
Despite her holier-than-thou attitude, thoughtless logic-free rants are typical of Amanda Marcotte's writing. Her entire oeuvre seeks to demonize dissenting opinion with childish, shallow "explanations" of the conservative mind and malicious falsehoods about the Right.
Even her fellow leftists have noted how ineffective and hypocritical Amanda's venom-laced screeds tend to be. A reviewer of her book, Get Opinionated, recently wrote:
Marcotte says that to counter anti-government histrionics from conservatives progressives need to put forth "positive, truth-based counter-arguments to raise people's consciousness." If only Get Opinionated practiced what it preaches.
Amanda Marcotte will never be an honest opponent concerned with truth-based arguments. She's just another Alex Jones of the "progressive" blogosphere, a lying demagogue feeding her audience pre-digested hokum to nourish them with the validation they desperately crave. Like Alex Jones, she's happy to peddle lies and conspiracy theories about the Right because it pays the bills and cements her status as Eternal Victim of the Vast Right Wing Conspiracy.
As Amanda and Alex have discovered, hawking the absurd theory that deceitful wingnuts are trying to destroy your livelihood for sadistic thrills can always be counted on for a bit of Web traffic. Oh, and it doesn't hurt to add that conservatives are all evil Bushco worshipers who hate freedom. And puppies.
Stirring up hateful resentment of the opposition might not be honest work, but stop thinking like a cruel and sadistic conservative. Professional buffoons need jobs too.
Originally published on June 30, 2010 at David Horowitz's NewsReal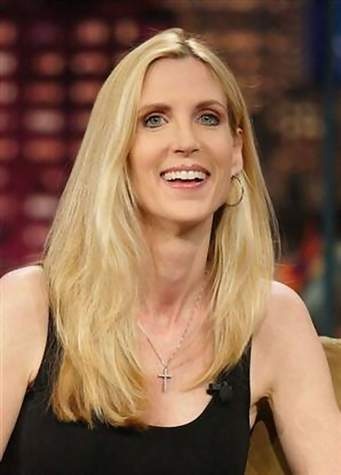 The American Prospect didn't get much attention for breaking a huge story earlier this month: the mysterious disappearance of Ann Coulter.
Few of us realized she was missing, but luckily crack detective Paul Waldman was on the case. The Media Matters alum was determined to find an answer to the question no one else was asking: "Whatever Happened to Ann Coulter?"
Remember Ann Coulter? Seems like just yesterday she was Queen of the Right, the whole political world hanging on her every bile-laced tirade. Yet she's all but disappeared.
Waldman's fantasy that Ann Coulter "all but disappeared" is a deliciously desperate display of magical thinking. He doesn't have a shred of evidence, but hopes that if he makes the claim over and over while wearing his lucky cardigan, his wish will come true.
Waldman "argues" that Coulter's "shtick just got old," and that in the Grand and Civil Age of Obama her "act seems somehow out of place," even among the hate loving hate lovers on the Right. Oh, and she just can't serve up piping hot wingnuttery the way Glenn Beck can:
It's not that there isn't plenty of hate on the right, but Coulter's hate was just pure venom, without much point to it. She had none of the crazy conspiracy theories that have become de rigueur. She shot out in all directions, while the people at the top of the heap now, like Glenn Beck, are convinced they are driven by a complex and coherent ideology, complete with a Founding Father fetishism that would sound insincere coming from Coulter.

So she's been left behind, never to grace the cover of a national newsmagazine again. Tragic.
Note Waldman's wishful thinking in using the past tense to describe Coulter and her tragic descent into irrelevancy. He might want to have his mojo checked out, because it's not having the desired effect.
18 months after the debut of Coulter's Guilty: Liberal "Victims" and Their Assault on America, the Kindle edition is still ranked #33 on Amazon's list of top selling conservative books. The hardcover comes in at #43, and Godless: The Church of Liberalism is still in the top 100 more than four years after the initial printing.
In the last year I've seen Coulter on CNN, CBS, and ABC just while flipping channels. And of course, she does speaking engagements and makes frequent appearances on Hannity, O'Reilly, Geraldo, Red Eye, and other Fox programs.
For a woman who dropped off the face of the earth, Coulter also keeps her critics busy. A week rarely goes by without multiple Coulter-induced seizures at Media Matters. And in April, she was mocked as a poor role model for girls on the Fox show "Glee."
But perhaps most telling of all, here's a screen capture John Hawkins took of the five most popular Townhall columns:
Instead of imagining Ann Coulter into irrelevancy, Paul Waldman might want to hit her up for some career tips.