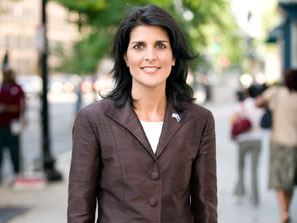 A month ago, few people outside of South Carolina knew of State Rep. Nikki Haley.  But that didn't stop her opponents from wetting themselves when Haley picked up some impressive endorsements and her gubernatorial campaign gained momentum.
Don't worry, said their trusty consultants as they mopped up the puddles, a scarlet letter oughta finish her off. And if a little old fashioned slut-baiting doesn't do the trick, we'll just make sure everyone knows Nimrata Randhawa Haley is secret "raghead."  Trust us, the good ol' boys in South Cackalacky know just how to handle a foreign lady who's in our way.
And thus began their Hail Mary pass to sideline the uppity woman with the ethnic name.
Why bother? Because Haley's record of fighting for transparent government is a direct threat to politics as usual at the Statehouse.  South Carolina's good ol' boys are terrified that Haley will force on-the-record legislative voting, so they scraped the sewers for the scummiest strategy imaginable.
Up first was Will Folks, the fiancée-beating degenerate who titillated the drooling media with unsubstantiated tales of his "inappropriate physical relationship" with Haley. Haley has been married for 13 years and Folks claims the affair occurred in 2007.
News organizations from the New York Times to the Greenville News printed Folks' allegations, dutifully including the contention that he was a longtime Haley cheerleader.  Oddly, none of them mentioned that just after Haley announced her gubernatorial bid, Folks posted a mock interview in which he threatened her with violence:
You need to learn to count. And while you're at it, shut your mouth. Don't you know I beat up women, like all the time? Nikki, what I'm saying is that if you can't beat these [inaudible] mouth-breathing, inbred knuckle-draggers with one hand tied behind your back then someone should raise a fist up against you.
What could have possibly motivated this fine upstanding gentleman to help undermine Haley's candidacy? After all, entering a guilty plea on one criminal domestic violence charge couldn't mean he's got a problem with the ladies, now could it?  Perhaps this diehard Haley supporter will come clean about his hatred of women in the book he's currently shopping … if the price is right.
Next at bat was Larry Marchant, former employer of Will Folks and a paid consultant to gubernatorial candidate Lt. Gov. Andre Bauer. Marchant just happened to pick the week before the primary to tell the world that he and Haley had a one night stand in 2008. The proof? Why, his word, that's the proof!  If it's good enough for the media, it should be good enough for you.
Starting to see how this works?
Haley says she's been 100 percent faithful to her husband throughout their marriage, and even promised to resign if any allegations are proven.  But proof isn't really the point. The point is to raise doubt about her virtue and leave voters with the indelible impression of a home wrecking hussy who sluts around Columbia with all sorts of sleazeballs.
And that impression is just fine with Lt. Gov. Andre Bauer.  In a Friday press release, Bauer suggested that Haley take a lie detector test, presumably because a lying whore can't be taken at her word.  But a couple of jowly dudes talking smack about the hot chick they banged?  Totally credible in Bauer's neck of the gutter.  As Melissa Clouthier noted, there is "deep misogyny" involved in this campaign to sink Haley.
As if the misogyny weren't bad enough, Haley's opponents are bringing other forms of bigotry into the mix.  U.S. Rep. Gresham Barrett's team reportedly "discussed playing the religion card" against Haley (who his aides privately refer to as "Nimrata"). And Friday morning, a member of the Bauer campaign emailed supporters an article that asks:
After seeing how the faith issue hurt Mitt Romney and damaged Barack Obama to some extent as well, is Haley making a political decision by playing up her Christian faith (just like Obama did) and LOSING the Sikh emphasis?
Haley was raised Sikh and converted to Christianity. But again, that's not really the point, is it? Haley's religious roots are being emphasized in an attempt to paint her as a scary outsider, someone who can't govern South Carolina because she isn't like us.
Anyone taking bets on how long it'll be until someone asks for her birth certificate?  Better yet, will State Senator Jake Knotts be the first? The Free Times reports:
"She's a f#!king raghead," Knotts said.

He later clarified his statement. He did not mean to use the F-word.

Knotts says he believed Haley has been set up by a network of Sikhs and was programmed to run for governor of South Carolina by outside influences in foreign countries. He claims she is hiding her religion and he wants the voters to know about it.

"We got a raghead in Washington; we don't need one in South Carolina," Knotts said more than once. "She's a raghead that's ashamed of her religion trying to hid it behind being Methodist for political reasons."
Knotts, a Bauer supporter, says he's called Haley a "raghead" a number of times and that he was just joking.  He added, "I still believe Ms. Haley is pretending to be someone she is not, much as Obama did, but I apologize to both for an unintended slur."
This isn't the first time Knotts attempted the "I was joking" excuse to get out of a sticky situation.  Here's the ProQuest abstract of a Jun 6, 1996 Sentinel article titled "White Lawmaker Angers Blacks":
Several black and white legislators objected when South Carolina state Rep Jake Knotts introduced amendments to the black monument bill that would have created monuments for Scottish-Americans, Polish-Americans and others. Knotts later announced that he had only been joking about the bill.
Oh, but there's more.  In 2003, Knotts worked himself into a frenzy over a group of Somali Bantu refugees who were going to be "dumped" in his district.  He insisted the 40-50 Bantu children would "lower our SAT scores and our accountability." (The State, Jun 28, 2003)
Hmm, seems like the persecuted immigrants didn't need to bring any stupid. Knotts made sure there was plenty to go around.
With a despicable history like that, would it be surprising if we learned that political operatives sent Knotts to tape a live talk show knowing that he wouldn't bother to self-censor his bigotry?  Is is out of the realm of possibility that they wanted–even encouraged–him to blow the dog whistle, alerting fellow bigots to the "raghead" in our midst?
Just like allegations of adultery were intended to tap into existing voter misogyny, these religious and ethnic slurs were designed to exploit voter bigotry.  Bigotry that doesn't exist at anywhere near the levels bigots think it does.
When Nikki Haley launched her campaign in May 2009, reporter John O'Connor wrote, "To become governor, Haley will have to overcome questions about her Indian heritage and whether S.C. voters will accept a woman chief executive."
A year later, Haley is leading the race.  I guess she overcame those questions more easily than her opponents hoped.  Now it's time to focus on the issues that matter to the people of South Carolina.
Full disclosure: I am a volunteer with Nikki Haley's gubernatorial campaign.
Once again, I'm behind on posting the links to my articles at other sites. (What else is new?)Â  Here are two of the pieces I published at NewsReal this month:
I Now Pronounce You Wusband and Hife
The editor-in-chief of a women's lifestyle site is so fearful of gender stereotypes in marriage that she's decided to abolish the terms husband and wife. I'm not joking, and neither is she.
Obama is Not What a Feminist Looks Like
On International Women's Day, the president had plenty of time for shout-outs to celebrities and Communist activists.  But when it came to voicing his support for the struggles of women outside the United States, President Obama had nothing to say.
More to follow.
Earlier this week, I wrote about my refusal to link to Wikipedia because it uses "verifiability, not truth" as a standard for assessing the value of information.  But as untrustworthy as I find Wikipedia, it's infinitely more credible than supposed news site WorldNetDaily, the unofficial online headquarters of the birther movement.
Masquerading as a news organization, WND peddles conspiracy theory as fact.  The company has sponsored Where's the Birth Certificate? billboards and published hundreds of articles questioning Barack Obama's constitutional eligibility to serve as president.
WND founder and editor-in-chief Joseph Farah is essentially a cult leader, encouraging his followers in their crazy-eyed obsession with President Obama's birth certificate and furnishing them with whatever tinder he can manufacture to fuel the birther fire.  Farah's nagging demands for Obama to produce his "long-form" birth certificate have destroyed any credibility he may have once had.
Friday night, Farah serenaded his cult of birthers during a dinnertime speech at the Tea Party Convention in Nashville.
Farah started fine — heaping praise on the constitution, and urging America's leaders to be faithful to it. He ended well, too, with a stirring exhortation to "take the offence in this struggle."

But these flourishes were merely the bread in a lunacy sandwich — the filling of which were 10 solid minutes implicitly questioning whether Barack Obama is an American citizen. In 2012, he declared, every single election lawn sign should say: Show me the birth certificate.
Seen in the best possible light (and I'm being very generous), birthers are a group of people who simply cannot reconcile Barack Obama's American citizenship with policies and beliefs they perceive as fundamentally un-American.  The cognitive dissonance is too much to bear, causing them to become unhinged eligibility truthers.
Or they're guano crazy. Take your pick.
Either way, the culture of conspiracy promoted by the birthers should be unequivocally rejected by every mainstream conservative.  And right now, the best woman for the job is Sarah Palin.
Palin is delivering the keynote address at the Tea Party Convention Saturday night. Â  This is a perfect opportunity to put principle before politics. With just a few carefully chosen words, she can distance herself and the tea party movement from Joseph Farah's distracting cult of birtherism, once and for all.
A chance like this won't come again. Will she take it?
I'll be tweeting the State of the Union address tonight. Please follow along on Twitter and help me mock President Obama's attempts to win back the public trust by blaming Booooosh!!!!
Oh, and do yourself a favor: don't play any of the State of the Union drinking games that require you to take a drink every time President AllAboutMe says "I" or "me." Your liver will thank you.
Sen. Jim DeMint on federalism (May 2, 2009):
We can argue about how to rein in the federal Leviathan; but we should agree that centralized government infringes on individual liberty and that problems are best solved by the people or the government closest to them.
…
Freedom Republicanism is about choice — in education, health care, energy and more. It's OK if those choices look different in South Carolina, Maine and California.
Sen. Jim DeMint on federalism (December 14, 2009):
"Marriage is a religious institution. The federal government has no business redefining what it is," DeMint says. This is one issue where he doesn't support states' rights; state government shouldn't have the right to permit gay marriage: "Governments should not be in the business of promoting a behavior that's proven to be destructive to our society."
DeMint's ideas about federalism are schizophrenic at best.
In the first quote, DeMint takes a principled stance on limiting the role of the federal government.  In the second, he advocates a values-dependent brand of state sovereignty, a system of government in which powers not delegated to the United States are reserved to red states. At least if gay marriage is involved.
Note to Jim DeMint:Â  The road to hypocrisy is paved with fair weather federalism.
Want a clear indication that the federal government has no business getting into the health insurance industry? Look no further than the Stupak amendment, the measure that attached tight abortion funding restrictions to the House health care bill.
Democratic consultant Karen Finney called the Stupak amendment "an attack on our personal freedom and liberty as guaranteed by the constitution." Rep. Barbara Lee (D-CA) said the amendment "attempts to dictate to women how to spend their own money." And liberal columnist Michelle Goldberg lamented, "Health-insurance reform was supposed to end the sort of hideous cruelties our system inflicts on patients, not create them."
To call Finney, Lee, and Goldberg tone deaf would be a grand understatement.
The only reason the abortion restrictions in the Stupak amendment are so intrusive is because health care reform is so intrusive. When we increase the role of government in health care, our freedoms and choices become more vulnerable to politics. Period.
Funding for every aspect of the doctor-patient relationship, every medical test and procedure, and every health care guideline becomes susceptible to pressure from special interest groups and moral scrutiny by taxpayers.  If guys who can't get it up have enough money to throw around, erectile dysfunction drugs make the cut.  If taxpayers think acupuncturists are predatory quacks, no reimbursement for them. And after the reconciled bill is signed by the president, an unelected body will make these decisions for all of us.
Liberals cheered when President Obama appointed an executive pay czar, reasoning that companies like AIG have no right to determine pay packages if taxpayers are footing the bill.  But somehow they missed the obvious lesson.  There are always strings attached to government handouts.
Welcome, liberals, to the hazards of government subsidy.  Either private insurance is restricted by health care reform, as with the Stupak provisions, or abortion receives some form of federal funding, thus changing the status quo.  There's no in between.
Objectionable restrictions abound when we seek increased state participation in our lives through regulation or subsidy.  Just ask members of a United Methodist Church group that refused to make a beachfront pavilion available to a lesbian couple for a civil union ceremony.  The group lost its state property tax exemption for failing to make the venue available to everyone on an equal basis.  But that's how it works: if you want state subsidies, you have to play by the state's rules.
We've seen the impact on coverage in states that are experimenting with models of universal health care.  In Massachusetts, legal immigrants no longer have state-subsidized coverage for dental, hospice, and skilled nursing care. And if you're a Medicaid patient, prisoner, or public employee in Washington state, don't expect your government to cough up the cash for knee arthroscopy for osteoarthritis – it's one of several treatments no longer covered.
Speaker Nancy Pelosi has said that "the power of Congress to regulate health care is essentially unlimited."  Do liberals really believe that those regulations will exist to make their wildest dreams come true, now and forever?
When you invite the government to become more deeply involved in health care, you're also inviting greater government interference in personal choice. Medical decisions become political decisions. That's how it works, and it's why philosophical opposition to the growth of government isn't the crazy-eyed wingnuttery progressives make it out to be.
Proponents of liberal health care reform deliberately lured a bloodthirsty vampire over their thresholds, and now they're shocked – SHOCKED – to find they have fangs buried deep in their necks.  I'm not one to blame the victim, but it sounds like they might be getting exactly what they were asking for.