Desire and Yearning, Burger King Style
I present you with reason number 247 to stay away from Burger King: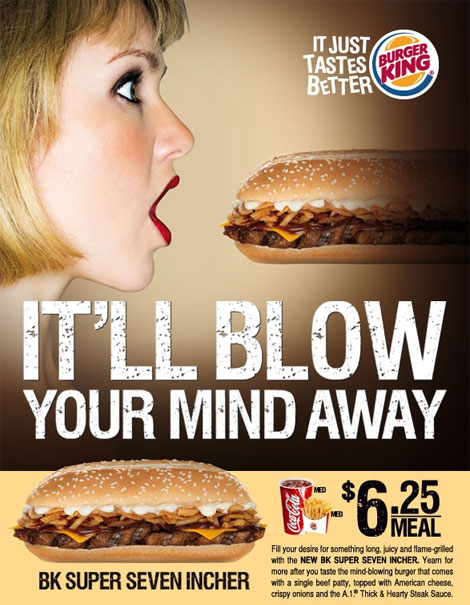 Others have noted that the woman in this ad resembles a blowup doll, but the problem with the image goes beyond the objectification of a woman by reducing her to a single orifice.  More disturbing is the juxtaposition of blatantly sexual ad copy with a wide-eyed woman who looks utterly horrified at the "Seven Incher" headed toward her open mouth. That's not the look of a woman who's happy to be there.
If you can't quite make out the ad copy, here's what it says:
Fill your desire for something long, juicy and flame-grilled with the NEW BK SUPER SEVEN INCHER.  Yearn for more after you taste the mind-blowing burger that comes with a single beef patty, topped with American cheese, crispy onions and the A.1. Thick & Hearty Steak Sauce.
Desire? Yearning? I'm not seeing it.
In addition, there's the main ad copy: It'll Blow Your Mind Away.  Not, it'll blow you away, but it'll blow your mind away when it's shoved down your throat and chokes out the back of your skull.  This ad isn't merely sexually suggestive; it's evocative of sexual violence.
I'm not opposed to sexual innuendo in advertising, especially if the ad campaign is unlikely to be seen by children.  Depictions of sex don't make something sexist. But I like my sexual imagery to portray all parties, men, women, and phallic sandwiches, as if they are fully enjoying themselves.  This ad doesn't come close to cutting it.
Apparently Burger King didn't learn from the widespread outrage and boycotts following their Spongebob/Sir Mix-A-Lot mash up.  Please let them know that their latest ad campaign isn't an improvement:
Burger King Corporation
5505 Blue Lagoon Dr.
Miami, FL 33126
Consumer Relations (305) 378-3535, M-F, 9am–5pm EST
Investor Relations: investor@whopper.com
Comments