Greenville Tea Party Draws 2,000 Protesters
2,000 protesters gathered on the banks of the Reedy River Friday evening for the Greenville Tea Party. Frustrated citizens joined Americans in more than 50 cities to decry the grotesquely irresponsible bailouts, pork, and ill-advised stimulus measures that are turning current and future generations into permanent federal piggy banks.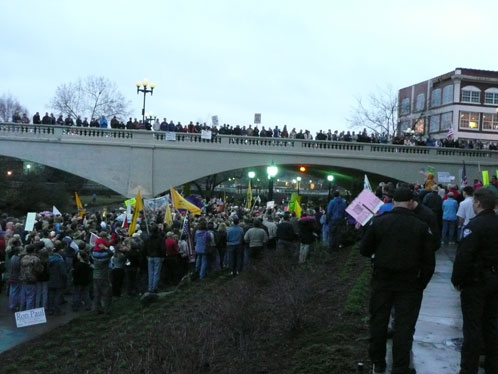 The rally organized by the Upstate Young Republicans was nothing short of inspirational.  I know that sounds sappy, but as a lifelong New Yorker, I've never seen that many Republicans in one place and honestly, it was kind of validating to see that they exist in real life, not just in the cesspools known as blog comment sections.  The turnout was incredible, dwarfing my expectations and those of the organizers.  Looking at the crowd estimates, it may have been the most well-attended of all the Tea Parties held Friday.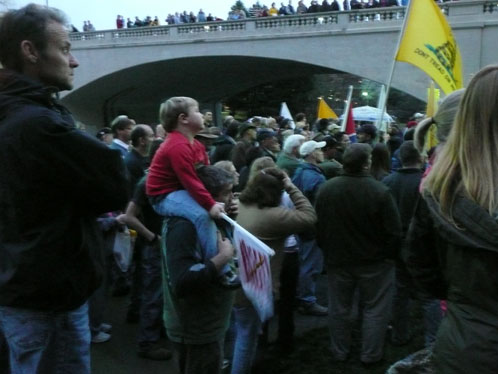 The ground was muddy, the sky overcast, the air humid, and no one seemed to care.
Here are photos of some of the protest signs (please excuse my ailing camera):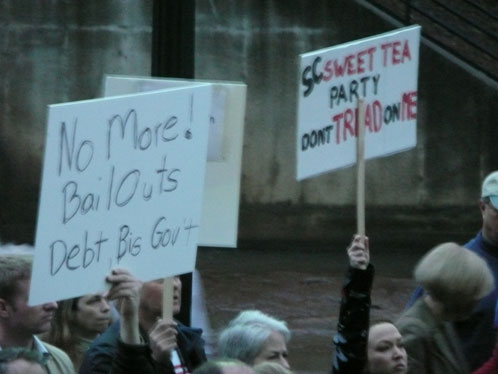 It's gotta be a sweet tea party if you're in Greenville, SC.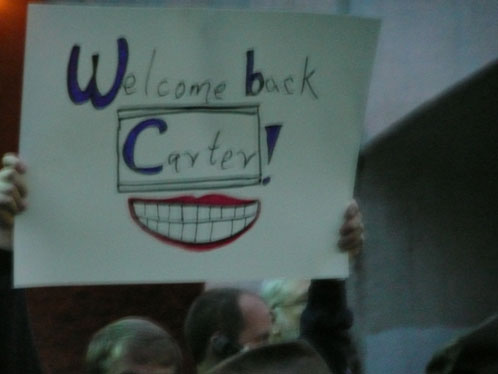 Welcome Back, Carter!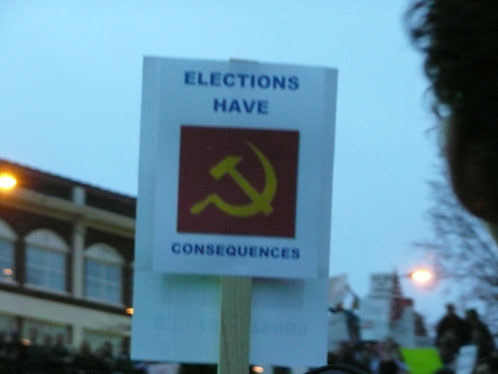 Elections have consequences.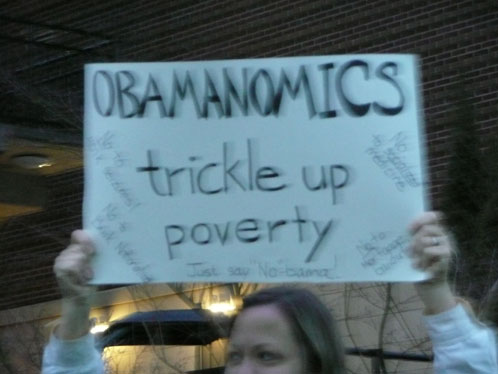 Obamanomics: trickle up poverty.
Speakers electrified the crowd with talk of constitutional freedoms and personal responsibility, eliciting roars of agreement that could be heard blocks away. Rob and I listened to a young mother explaining the history of the Revolution to her daughter (accurately!) and watched fathers hoist their children into the air to wave flags and banners. Samuel Adams (and his reincarnation Rick Santelli) would be proud.
While the protesters were clearly unhappy with the usual suspects – Obama, Pelosi, and Reid – there was a particularly special place in their hearts for South Carolina Senator Lindsey Graham. Chants of "Lindsey Don't Care!" spread through the crowd as speakers criticized his earmarks in the most recent omnibus spending bill.
Mentions of our other South Carolina Senator, Jim DeMint, were met with wild rounds of applause. His consistent fiscal conservatism and hard-line stance against the bailouts has earned him hero status here in Greenville.
Even Ron Paul's supporters were out in full force, gearing up for 2012 with updated campaign signs.
The highlight of the event, however, was when a speaker asked people under 30 to raise their hands so he could apologize to them for the generational theft taking place.  Since I turned 29 again this year, I joined right in and the only person who gave me a funny look was my husband.
Here are a few more photos of the crowd taken from the Main Street bridge: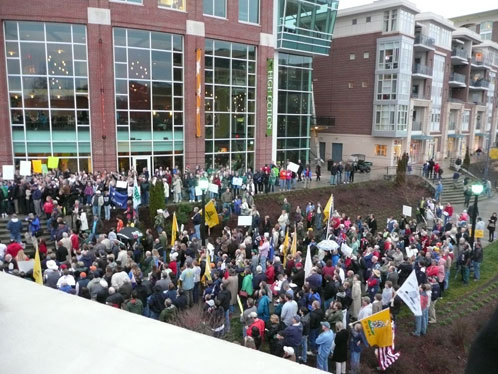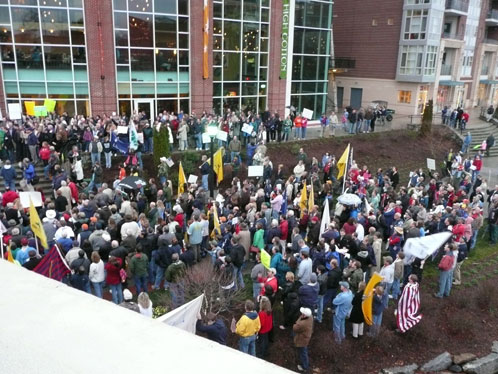 And one final shot of the crowd rushing toward the river bank at dusk to toss in their tea: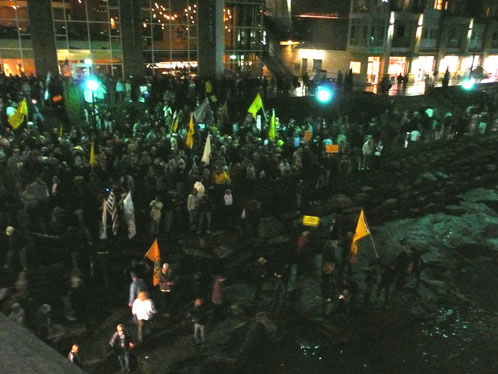 Many of the protesters brought trash bags full of leaves in lieu of tea. I must have missed the memo – did they do that in other cities?
Local photographer Jenny Marie Brown has more photos of the Greenville rally.
Other Tea Party coverage (I'll add to this round up over the weekend – leave your links in the comments):
Michelle Malkin's Tea Party photo album
My friend Bill Hennessy covers the hugely successful St. Louis Tea Party he organized (1,000+ protesters)
Gateway Pundit has more on the St. Louis rally
America's North Shore Journal has a multi-city round up
Dan at GayPatriot attended the LA Tea Party on Santa Monica Pier
The Denver Tea Party at Slapstick Politics
Video of the Atlanta Tea Party from Blue Star Chronicles
Great photos of the San Diego Tea Party from Christa at Cheat Seeking Missiles
And finally, to all the Tea Party naysayers who think this movement isn't going anywhere (I'm lookin' at you, Cavuto): it's on.
Comments