In Which A "Progressive" Feminist Bows To My Will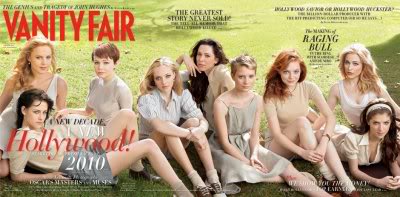 In my latest piece for NewsReal, I wrote about a feminist diversity cop who complained about the dearth of "colored women" in Vanity Fair.  Yes, she actually used the phrase "colored women," as in, "There is not a single colored women [sic] gracing your pages this year!"  Welcome to 2010.
After my piece appeared, her editor issued a correction. I hope the change would have been made with or without my prodding, but let's just pretend that my mission was successful. That way I can gloat.
If you get a chance, please check out my other NewsReal pieces from this week:
Introducing the Naomi Wolf Award
I take feminist writer Jill Filipovic to task for her defense of the burqa as a mere article of clothing rather than a tool of subjugation.
Lord of the Rings Commentary by Howard Zinn and Noam Chomsky
A quick link to a very funny satire at McSweeney's.
Slate Magazine Reintegrates Womenfolk
Nine months after Slate's women writers went off to the virtual menstrual lodge, the magazine has found that separate but equal doesn't pay the bills.
Comments are always appreciated.
Comments