Judging Meghan McCain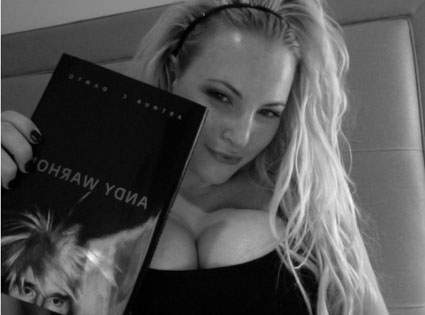 Freedom of speech is guaranteed to all Americans.  Freedom from judgment is not.
Consider the great décolletage debacle of '09.
Meghan McCain threatened to delete her popular Twitter feed Wednesday night after receiving a torrent of comments about the revealing photo she posted.  Although many reactions were complimentary, some were negative and offensive, calling the Daily Beast columnist a "slut" and admonishing her for displaying considerable cleavage.  She wrote:
so I took a fun picture not thinking anything about what I was wearing but apparently anything other than a pantsuit I am a slut, this is … why I have been considering deleting my twitter account, what once was fun now just seems like a vessel for harassment … I am going to take some more time to think about it but seriously I was just trying to be funny with the book and that I'm a dork staying in … when I am alone in my apartment, I wear tank tops and sweat pants, I had no idea this makes me a "slut", I can't even tell you how hurt I am
Calling Meghan McCain a slut is infantile and idiotic no matter how skimpy her tank top.  It's a nasty, overused pejorative that only reflects poorly on people who fling it around. Much like calling a woman a mashed-up bag of meat, it has no place in polite discourse.
But Twitter isn't prime time television and there's no promise or expectation that every interaction will be polite. For the famous and infamous, it's a vicious celebrity gauntlet, not a genteel afternoon tea party.  Every tweet, every Twitpic, is an open invitation asking other Twitter users what they think of you. And sometimes they think you're a slut.
Meghan McCain knows this.  In fact, that's why celebrities like McCain use Twitter.  It's a gargantuan, interactive global advertising platform offering unlimited promotion for the low, low price of $0.00.
I've followed Meghan McCain on Twitter for the better part of a year.  She's done a brilliant job of building a large following she can leverage to promote her upcoming book.  In part, she does well with Twitter because of her penchant for oversharing, and for spitting invective at conservative bloggers and commentators.  She's not afraid to dish it out, but can she take it?
Apparently not.  And that's fine.  No one is forcing Meghan McCain to endure the trials and tribulations of fame.  Living in the media spotlight requires a thick skin.  Hell, even writing a blog with open comments places you in the line of fire.  Whether it's your ideas or your body, when you put yourself out there for the world to see and hear, you're going to get criticized.  A lot.  Plenty of it will seem unfair, and some of it will make you want to bring up your lunch or crawl back into bed.  Right or wrong, good or bad, it's the price we pay for participating in the marketplace of ideas.  There's no invisible rider on the First Amendment that promises to protect the thin-skinned from vile and demeaning criticism.
I'd love it if no woman had to suffer the stinging indignity of having her virtue called into question based on the size of her breasts or the way she dresses.  Been there, done that, and it sucks. If a public figure like Keith Olbermann had something foul to say about Meghan McCain, I'd be dialing up MSNBC to complain.  But there's not much to be done about lonely strangers tweeting insults as they masturbate to the thought of Meghan McCain crying into her cleavage. She can ignore them or ridicule them, but they'll always be there.
Meghan McCain has two choices: toughen up or drop out.  Expecting the world to stop judging her is not an option.
Update: Sister Toldjah and The Other McCain link. Thanks!
Comments