Marrena Lindberg: Portrait of a Liberal
Perched on a stool in a television studio, Marrena Lindberg pulls out her prized possession: a photo of Stephen Colbert. She squints her eyes slightly, scrunches up her face, and emits a slightly tortured mewl that falls somewhere between whine and sigh. That, she explains somewhat clinically to the naked adult film star on her right, was just one of the 40 to 50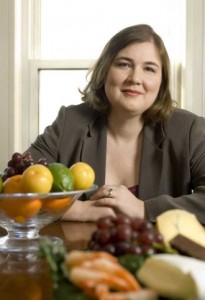 Colbert-induced orgasms she experiences every day.
My better half and I watch in horrified fascination as the heavyset Ms. Lindberg plugs The Orgasmic Diet, a nutritional regimen we imagine does little for one's figure or sex life. As our tear-inducing laughter subsides, she demonstrates one more hands-off, six second Colbert-gasm.
And thus, our first night of upgraded cable service came to an end. (Best recession ever, by the way.) We'll be a little more careful about surfing past the HBO range of channels from now on.
As distasteful as it was to watch this woman humiliate herself by faking orgasms on television, I couldn't help but wonder what kind of person does such a thing. I completely understand why she appeared on the Katie Morgan show – she's got books to sell – but who the hell gets on TV and drools over a picture of Stephen Colbert while pretending to Kegel her way to climax in less than 10 seconds?
Enter Google.
42-year-old Marrena Lindberg is an overweight Wiccan divorcée who indulges her stalker-like obsession with Stephen Colbert by posting prolifically on the ColbertNation forums using the handles Eris and zaneblue. She likes to write about the unseemly details of her sex life, but her political nonsense almost eclipses her sexual nonsense.
Ms. Lindberg has more than a touch of Palin Derangement Syndrome, reads DailyKos, comments regularly on HuffPo, and thinks George Bush stole the elections in 2000 and 2004. Oh, and predictably enough, she hates corporations and neocons. Of course, all that typical liberal ire is to be expected, considering the Rethuglicans are preventing her from getting the government to foot the bill for her research into female orgasms. As she wrote several weeks ago in a verbose letter she bribed Dan Savage to publish:
I can't get funding because of the Republicans in power, there's no funding for any non-pharmaceutical research, much less for a study on God forbid female sexuality.
Someone might want to let Marrena Lindberg know that the Democrats won control of Congress in 2006. If only she knew before donating all her "spare money to Obama." She could have saved her cash to load up on Colbert centric spank material.
Comments