Nannies: The Next Class Warfare Casualty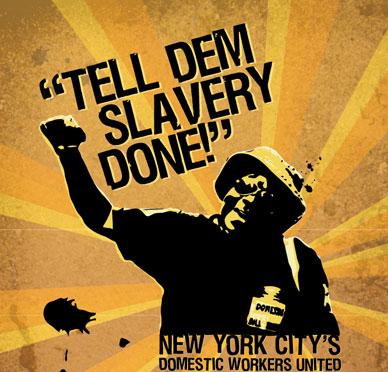 Originally published at David Horowitz's NewsReal Blog
____________
Forget the nanny state.  New York is well on its way to becoming the nanny-less state.
The Domestic Workers' Bill of Rights passed by the New York State Senate earlier this month is being sold as a package of workplace protections for nannies, housekeepers, and other domestic employees.  But is the legislation really a human rights victory for low-wage women or is it a job-killer likely to burden both domestic workers and the families who employ them?
Labor unions and community organizers say the bill is a social justice measure designed to bring fair labor standards to poor women, immigrant women, women of color, and of course, poor immigrant women of color. Among the "protections" families will be required to provide for their household employees:
A half dozen paid holidays per year.
Five paid vacation days per year.
Seven paid sick days per year.
Time and a half after eight hours of work each day.
Two weeks of severance pay (or two weeks' written notice).
All full time domestic workers will receive the same benefits regardless of immigration status or whether they are paid on the books. In addition, the legislation opens up the possibility of collective bargaining for domestic workers.
"Finally, 'the help' may get some help," gushed an editorial in The Journal News.  "Who can argue against that?" asked writer Claudia Deutsch.
Actually, it's pretty easy to argue against a bill that imposes huge new financial burdens on families, especially when it comes during an economic recession so bad that New York state government might shut down.
It's simple. When it becomes more costly to employ nannies in New York, fewer families will hire them.  Some parents will make do with part time help or switch to institutional daycare.  Others will move out of state or stop working outside the home.  Desperate lawmakers are convinced they've found one more way to squeeze New Yorkers to fund unsustainable entitlement and pension programs.  But eventually there's nothing left to squeeze.
As with minimum wage laws, these mandatory benefits and high administration costs will lead to increased unemployment.  The very workers the bill purports to protect will suffer. And there's no indication these measures will improve working conditions or prevent exploitation and abuse.
But none of that matters to the bill's endorsers. The list is a virtual tour of the organized Left that includes AFL-CIO, the New York Civil Liberties Union, Domestic Workers United,  SEIU, Gloria Steinem, Socialist Party USA, Students for a Democratic Society, and Working Families Party (an ACORN front group).
Another supporter is Frances Fox Piven, one of the sociologists responsible for the Alinsky-inspired Cloward-Piven strategy to intentionally collapse the welfare system and usher in a socialist revolution.  Hmm. What interest could Piven possibly have in legislation that's likely to put domestic employees out of work and onto the public dole?  I'm guessing her involvement has nothing to do with a lifelong admiration of nannies.
One of the lead organizers pushing the Domestic Workers' Bill of Rights is Ai-Jen Poo, a co-founder of Domestic Workers United.  Her mission as a community organizer is "to build a base that has the power to drive a real progressive agenda that's to the left of what the Democratic Party is willing to settle for."  And it's worth noting her strategy:
We need to build stronger connections between the social movements and the labor movement.… That means that we need to understand and engage with labor's agenda, and we also need to push labor to take on social justice issues from the various vantage-points that the working class experiences them.
Ah, yes, social justice organizers scratching Big Labor's back and vice versa. What a shock.  But what of the nannies, eldercare workers, and housekeepers?  Who will scratch their backs (and pay their union dues) once they've outlived their usefulness as pawns in the Left's class war?
Read more of my work at NewsReal or follow me on Twitter.
Comments