No, Kevin Smith is Not the Rosa Parks of Our Time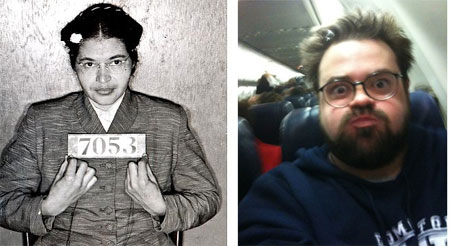 This week, I wrote a piece for NewsReal about filmmaker Kevin Smith getting tossed off a Southwest Airlines flight because the crew determined he was to fat to fly in the single seat he had purchased.  I enjoy Smith's films and think he's a talented writer, but his huge sense of entitlement rubbed me the wrong way.
After making the case that flying is a privilege, not a right, I wrote:
Right now we only have Kevin Smith's side of the story, and it's unclear whether the flight attendant used appropriate discretion in approaching him about her safety concerns. I certainly have no desire to see an overweight person shamed for being fat, and I hope that wasn't the intention.

But a little personal responsibility goes a long way. If Smith had simply paid for a second seat as required by airline policy, he could have avoided the embarrassing situation.  And according to Southwest's "Customer of Size Q&A," there's a 98 percent chance the price of the extra ticket would have been refunded.

Smith went on to complain that because of the airline's "size-ist policy" he was "being profiled." I guess flying while fat is the new breaking-and-entering while black.  Beer summit, anyone?
You can read the rest at NewsReal.
The piece received a lot of traffic, and comments were pretty evenly divided on the issue.  Several people made the case that the airplane, owned by a private company, was actually public transportation (thus proving my point about people feeling overly entitled.)  One of those comments was particularly despicable:
According to your unscrupulous logic, Rosa Parks should have moved because it was the Bus drivers choice. Like you said – public transportation "is a privilege, not a right".
Yes, this person actually had the gall to equate a hero of the black civil rights movement with a fat celebrity demanding that he be allowed to potentially compromise the safety of other passengers on a private airplane.
There's no comparison between Rosa Parks and Kevin Smith. It just isn't there.
And you know what else? Being fat isn't the same as being black.
I can't believe I had to write that. This is why I don't spend too much time reading comments – if you're not careful, the trolls will make you lose your faith in humanity.
Comments