Paul Krugman's Freaky Anne Hathaway Fantasy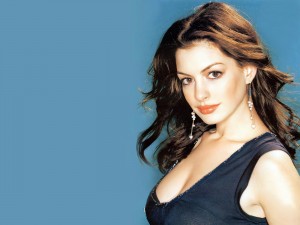 Originally posted at NewsReal's That's What She Said
Every time news coverage of actress Anne Hathaway spikes, so does Berkshire Hathaway stock. At least, that's the fantasy Nobel Prize-winning economist Paul Krugman promoted on his New York Times blog this weekend.
Why? The claim is that it's the fault of robotrading algorithms, which now account for most of the market, and which sometimes rely among other things on trends in news coverage.

That's the kind of dumb mistake human traders wouldn't make. Unfortunately, they'd make other kinds of dumb mistakes.
"I, For One, Do Not Welcome Our Dumb Robot Overlords," writes Krugman.
Where's the evidence that Berkshire Hathaway shareholders are at the mercy of a half-baked fleet of starstruck retard-o-bots? Krugman cites The Financial Times, but the original source of this bizarre story is Huffington Post blogger Dan Mirvish, a media hoaxer the New York Times once called "a senior fellow at the Institute of Nonexistence." On March 2, Mirvish wrote:
On the Friday before the Oscars, Berkshire shares rose a whopping 2.02%. And on the Monday just after the Academy Awards, they rose again, this time 2.94%. But it's not just an Oscar bounce, or something Warren Buffett may have said in the newspaper, or even necessarily something the company itself is doing (i.e. rumors afoot to buy Costco). Just look back at some other landmark dates in Anne Hathaway's still young career:

Oct. 3, 2008 – Rachel Getting Married opens: BRK.A up .44%
Jan. 5, 2009 – Bride Wars opens: BRK.A up 2.61%
Feb. 8, 2010 – Valentine's Day opens: BRK.A up 1.01%
March 5, 2010 – Alice in Wonderland opens: BRK.A up .74%
Nov. 24, 2010 – Love and Other Drugs opens: BRK.A up 1.62%
Nov. 29, 2010 – Anne announced as co-host of the Oscars: BRK.A up .25%
Yes, the fearsome Hathaway Effect is based on eight dates in a two-year period analyzed by a professional media manipulator. But … but … studies show! Yeah, one "study" of a handful of data points.
I know, Paul. Markets are confusing, and math is hard. It's been a while since you had to memorize all that information about sample sizes and correlation vs. causation for Stats 101. And it sure can be a hassle to RTFG. Fortunately, The Motley Fool cleared this up nearly three weeks ago:
Berkshire's stock most certainly was up on Oct. 3, 2008, but there was more than an opening for Anne going on. Just two days prior, the stock had jumped almost 5% after Buffett got a dandy deal on perpetual preferred stock from General Electric (NYSE: GE ) .Meanwhile, on Feb. 8, 2010, did Anne Hathaway's movie push up Berkshire's stock? Or were investors anticipating the heavy buying from index funds that would be forced to add Berkshire to their holdings after it replaced Burlington Northern Santa Fe in the S&P 500?

The March 5, 2010 gain we can write off even more quickly, since the S&P gained nearly double Berkshire's jump that day. What good is the Anne Hathaway signal if the stock still underperforms the rest of the market?

And of course, all good Fools know that the weekend of Feb. 27, 2011 something happened that was much more important than the Oscars — the Berkshire Hathaway annual shareholder letter was released. My wild guess is that the stock gains that Friday reflected anticipation about the letter, while Monday's pop was due to Buffett's bullish outlook in the letter.
Now run along, Paul, and check the inside of the fridge to see if a tiny Anne Hathaway turns the light on when you open the door.
Comments